Vision and Imaging Sensors / Detectors
UV Sensor aids in control of adhesive dispensing.
Press Release Summary: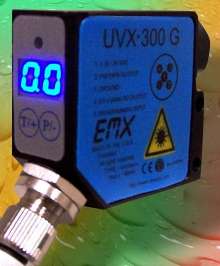 With operating distance to 350 mm, UVX-300G UV luminescence sensor detects glue and adhesives in assembly and manufacturing processes. It discriminates targets in any orientation from similarly colored backgrounds and offers 5 user-selectable gain settings and readings from 0-99. Features include adjustable light projection, numerical display of reading intensity, and auto-teach and manual calibration. Feedback response time is rated at 6 kHz.
---
Original Press Release:

EMX Announces First UV Sensor Developed for Improved Control of Adhesive Dispensing


Longest Range, Highest Resolution, and Easiest-to-Use UV Glue Sensor is 1/10th the Cost of Traditional Vision Systems

Cleveland, December 20, 2004 - EMX Industries Inc., a manufacturer of sensors for industrial automation, announced the UVX-300G, the first UV (ultraviolet light) luminescence sensor designed for improved control of glue and adhesive dispensing. The new sensor uses patented technology to provide long-range sensing capability and target detection that is more reliable than vision systems that typically cost ten times more.

The UVX-300G was specially developed to detect glue and adhesives in assembly and manufacturing processes, such as in packaging machinery and in the manufacture of adhesive tape. As feedback to a control system, the sensor can precisely measure the amount of applied glue, or it can be used to check for gaps in glue dispensing, excess glue on joints, and clogged nozzles.

Not as widely known as other sensors, UV (ultraviolet light) sensors detect the presence of seals, adhesives, and other assembly components, for quality assurance and manufacturing process feedback. Adhesives that are not naturally luminescent can be made UV light responsive by marking them with special materials or additives, without affecting the manufactured product's appearance. Because UV sensors can easily discriminate targets in any orientation from similarly colored backgrounds, they are often more reliable than vision systems costing $6000 and more.

A specialized version of EMX's UVX-300 general-purpose sensor, the UVX-300G shares its predecessor's distinction for longest range, smallest UV sensor size, fastest response time/sensitivity specs, and a solution for the longstanding difficulty of tuning the sensor to a light that is invisible to the operator.

It differs from EMX's general-purpose UV sensor in that it has higher sensitivity and resolution. It can detect subtle changes in glue coverage and is adjustable for different types of adhesives. Even transparent glues and varnishes are easily detected.

Twice the Reading Range of A Typical UV Sensor

The UVX-300G provides five user-selectable gain settings and readings from 0 to 99 - twice the reading range of EMX's general-purpose UV sensor. It uses adjustable light projection and high resolution to deliver pin-head sensitivity. An optional 50 mm lens will concentrate the spot of projected UV light into a tiny 5 mm spot that is much smaller than those of some competing systems.

Longest Range, Fastest Speed

The UVX-300G extends the useful operating distance of UV sensors to 350 mm - three to six times the distance of competing sensors - so the sensor will not get bumped or dirtied by passing targets. In addition, for optimal machine control, its feedback response time (6 kHz) is at least three times faster than any other UV luminescence sensor. This is important because glue dispensing machinery usually operates at high speeds on the order of 200,000 CPH / 650 MPM and because of the nature of the material is subject to clogs. If the feedback is not fast enough, a machine may miss gaps in glue dispensing, negatively affecting product quality.

Exclusive Numerical Display

Because UV luminescence is invisible under a normal light spectrum, UV sensors are difficult to tune without some indication of what they are reading. Up to now, the approach has been to use simple LEDs that indicate the set point has been reached. The UVX-300G takes a different approach, numerically displaying the intensity of each reading (relative reflection and threshold.) This EMX-exclusive feature makes it easy for the operator to tune the sensor and saves valuable engineering time compared to competing sensors, because it eliminates the need to blindly adjust sensor intensity and check the results over multiple test runs. In addition, the UVX-300G allows for user control of hysteresis for even further precision tuning, a feature not available on all sensors.

Fast and Convenient Integration

Unlike any competing sensor, the UVX-300G includes both auto-teach and manual calibration. This makes the sensor easy for low-skill operators to calibrate, yet it provides the ability to be finely tuned. In addition, in one sensor users get both analog and discrete output, plus auto-detect for PNP/NPN, a unique feature that simplifies integration compared to competing units. The advantages of analog output include the ability to "measure" the intensity of returned signal, the ability to track process variations for SPC and SQC applications, and easier sensor setup. Finally, integration is made easier by low power consumption; the UVX-300G requires less than 60 mA - lower operating current some other sensors in its class.

LED indicators for power, programming, and detection functions aid in setup and troubleshooting. The UVX-300G sensor features an IP67-rated housing suitable for a wide range of manufacturing environments, plus short-circuit and overload/reverse polarity protection. Connections are made via a standard M12 5-pin connector.

Superior Operation

For operational security, a supervisor may lock the unit's settings, either remotely or directly on the unit. This unique feature prevents operators from changing the sensor settings in order to avoid reporting manufacturing quality issues. No competing sensor offers this level of assurance.

For uninterrupted service, the source of the UV light is a long-life LED, providing 100,000 hours of service.

Smallest Size

The UVX-300G sensor measures only 3 x 2.3 x .75-inches - there is no smaller UV sensor in its class. The sensor's small size eases retrofit and minimizes machine size.

Price and Availability

The EMX UVX-300G UV luminescence sensor is available 4 weeks ARO, at a cost of less than $899. Optional accessories include a mounting bracket, and a 5-meter cable with a M12 5-pin connector.

To request a datasheet on the UVX-300G, or to talk to an applications engineer about how UV sensors can reduce manufacturing costs and improve processes, call EMX at 800-426-9912, send email to salessupport@emxinc.com, or visit the EMX web site at www.emxinc.com.

About EMX Industries

Since 1987, EMX sensors have been trusted in industrial automation and for gate and door control. EMX sensors are used in automotive, packaging, labeling, metal stamping, paper and wood processing, plastics, electronics and pharmaceutical manufacturing. Direct inquires to salessupport@emxinc.com, 800-426-9912 (phone), 216-518-9884 (fax), or visit the company web site at www.emxinc.com.

More from Electrical Equipment & Systems