UV Laser Wire Marker suits military/aerospace applications.
Press Release Summary: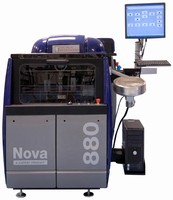 Available as manual system or with fully automated wire selection and loading, NOVA(TM) 880 uses UV laser and optical system based on Longbow(TM) UV solid-state laser. Slaving of character generating mask unit to solid-state laser ensures that output remains stable throughout entire marking process for optimal mark quality. Marker can handle 32 wires or cables and is suited for high-volume military or aerospace wire harness manufacturing applications.
---
Original Press Release:

Capris Nova(TM) 880 - Ultra High Speed UV Laser Wire Marker



Spectrum Technologies, world leaders in laser wire & cable coding and stripping systems, is pleased to announce the launch of a new landmark product: the NOVA(TM) 880 ultra high speed UV laser wire marker, which joins the existing range of CAPRIS® UV laser wire marking products as the new top of the range system.

The NOVA 880 is the highest speed laser wire marker developed to date by Spectrum with performance substantially greater even than the benchmark CAPRIS 100, which has been the mainstay of the aerospace industry for the past decade or more. NOVA 880 represents a quantum jump in performance in UV solid state laser wire markers. It uses a new high power UV laser and optical system based on Spectrum's proprietary Longbow(TM) UV solid state laser to achieve marking speeds up to double those of the current top of the range marker, the CAPRIS 60-200. Overall system throughput and productivity is increased by up to 90% compared to the C60-200, depending on job make up.

NOVA also heralds the introduction of a brand new overall system design with new wire handling and automation systems that introduce further substantial gains in performance and capabilities.

NOVA is available as either a manual system or with fully automated wire handling for selecting and loading wires. The new auto select and load (ASL) system doubles the number of wires that can be handled automatically from the previous sixteen to thirty-two wires or cables. The wire loading times, already fast on the CAPRIS 60-200, have also been slashed, thereby offering yet greater productivity.

A large backlog of aircraft orders has developed within the aerospace industry over the last several years, resulting particularly from the strong inflow of orders received by commercial aircraft manufacturers as the industry recovered from the post 9/11 dip. As a result recent industry reports have noted that future production of aircraft faces the prospect of being constrained by manufacturing capacity*. NOVA has been developed in anticipation of this issue and in response to demand from industry for a very high speed marker for high volume aerospace wire harness manufacturing applications. The NOVA marker also excels in extreme applications, for example marking very long wire codes and for marking long wires with continuous close pitched wire codes, such as required by military aircraft applications.

After consultation with key customers Spectrum's Engineering & Development team launched the NOVA development in mid 2006 to meet the requirement for a system with increased capacity. A full prototype system has been under development with thorough Beta testing carried out on site at Spectrum. The system has been carefully designed to reduce risks associated with new technology and thereby minimise the time to market.

Following a successful test phase NOVA has now been released into production with the first batch of units currently in manufacture. Spectrum is also delighted to announce that it has already signed up the launch customer for this important new product. The first unit is due to be delivered before the end of the year to the customer, an existing Spectrum key account.

NOVA has been developed using Spectrum's patented design for UV solid state laser wire markers under which the character generating mask unit is slaved to the solid state laser. This ensures that the laser output remains stable throughout the entire marking process and maintains optimum mark quality. The system is in full compliance with the latest international standards for aerospace wire marking such as SAE AS5649**. It also complies fully with other key standards such as AS50881 and major OEM standards.

Dr Peter Dickinson, Chairman and CEO said "NOVA is arguably the most important product we have developed in the last 10 years. Our engineering and development team have done an outstanding job in developing this new product. Our internal development process has been completely overhauled since the new engineering and development team was set up in 2005 and this has lead to a much smoother and more controlled development. We have been able to share information during the development phase with key customers who had a pressing need for this new product and I am delighted that our decision to launch this development has paid off with the initial order being placed before we publicly unveiled the product. We have already had strong interest in NOVA from a number of other customers and I expect NOVA to make a significant and growing contribution to sales and profits in the coming years".

*Flight International, 4-10 Sept 2007 Top 100 Report: Capacity Crunch
** SAE - Society of Automotive Engineers: Aerospace Standard AS5649 "Wire Marking Process, UV Laser". www.sae.org

Spectrum Technologies is the global leader in laser wire processing technology for applications in advanced manufacturing.

Formed in 1989, Spectrum Technologies has gained a reputation for Innovation and quality; Being the pioneer behind the development and introduction of UV laser wire marking technology to the aerospace industry; Being the leader in infrared laser wire stripping technology for advanced electronics manufacture.

Spectrum is the designer, developer and manufacturer of CAPRIS® UV laser wire markers, developed originally for the aerospace market, and SIENNATM IR laser wire strippers.

With the support of our strong customer base and a committed team of employees, our performance has been acknowledged with the award of:

-Preferred Supplier Status with the Boeing Company -A number of international exporter and innovation awards.

Spectrum strives to develop new applications of laser and electro-optic technology to provide innovative solutions in other areas of advanced manufacturing.

More from Chemicals & Gases