UV Laser-based Machine performs wire and cable marking.
Press Release Summary: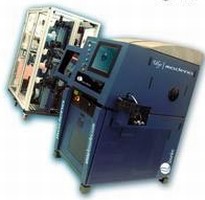 Able to operate in Boost and Economic modes, ULYS 990 Modena comes with 4 printing fonts as well as 2 horizontal and 2 vertical orientations. There are 90 characters per font, including upper/lower case, and Twin Shots process allows choice of appropriate production mode. Machine supports barcode 39 printing capability and allows up to 128 characters per identification mark. Also included, EASYPROD(TM) command software helps optimize production via data input and menus.
---
Original Press Release:

Laselec Launches the ULVS 990 Modena, a New UV Laser Wire Marking Machine, the Most Innovative on the Market



Chicago, March 25, 2008

LASELEC introduces the ULYS 990 Modena, its newest laser wire and cable marking machine, suitable for cables used in aerospace, automotive, electronics, and other industries. As a result of the company's R&D program and of more than 20 years of experience, this machine brings exclusive features and advantages to meet the expectations of the most demanding users including a wider marking zone and higher frequency of shots, more than twice the regular number, in the new "Boost" mode.

The ULYS 990 Modena brings new features such as an improved and more compact design, four printing fonts as standard with two horizontal and two vertical orientations and 90 characters per font including upper and lower case. It allows up to 128 characters per identification mark with specific information printed at cable ends, as well as bar code 39 printing capability.

This machine is suited to every production need thanks to the extremely user-friendly and versatile EASYPROD(TM) command software. This proprietary software helps optimize production and generate significant time savings with several features including multiple means of data input (disk, manual, or network) and several production menus allowing sorting according to cable part number, harness type, aircraft S/N, etc.

The ULYS 990 Modena is also equipped with an exclusive process called "Twin Shots," patented by LASELEC, which enables the user to choose the appropriate production mode according to need. The "Boost" mode marks at an extremely high speed and is best for marking very long identifiers with small spacing and bar codes on wires and cables in reel-to-reel configuration using the LASELEC re-spooler with no cutting. The "Economic" mode is perfectly suited to mark short and common identifiers with longer spacing. This mode will increase the lifespan of the flash lamp and save energy.

LASELEC will be exhibiting its UV laser wire marking machines at the following trade shows in 2008: the AEA (Aircraft Electronics Association) Convention in Washington, D.C., April 23 to 26 at booth 831; the Farnborough Air Show in Farnborough, Hampshire, UK, from July 14 to 20 in Hall 2 and booth number C15; and the NBAA (National Business Aviation Association) Annual Meeting and Convention in Orlando, Fla., from October 6 to 8.

About LASELEC:
The wire/cable marking machines developed by LASELEC are primarily used in the demanding sectors of the aerospace, automotive, rail, and telecommunication industries. The concept of the LASELEC machines is based on a controlled laser technology, which guarantees the users non-aggressive marking and compliance with the highest quality requirements in wire processing. It is particularly important for aerospace wiring. LASELEC is the leader in Europe, Africa, the Near East and Asia-Pacific, in the field of UV laser cable marking. The company, which has just opened an office in Sydney, Australia, has also increased its market share in the United States thanks to the dynamism of LASELEC Inc. LASELEC was awarded the "International Development" trophy by the DCF in October 2007, in recognition of its sustained annual growth rates over the past few years.


More from Machinery & Machining Tools