UV-C LED Product Range Becomes First Fully Certified by NSF International to their NSF/ANSI 55-2019 Standard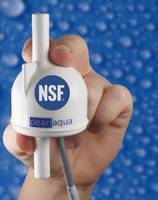 USA manufactured, PearlAqua Micro™ range of water disinfection products approved by NSF International to their newly published Standard 55. 
Erlanger, KY – AquiSense Technologies, the global leader in UV-C LED water disinfection technology, claims Class B component certification for its PearlAqua Micro range. Multiple models were tested and certified by NSF International in compliance with the new NSF/ANSI 55-2019 Standard for disinfection performance, materials compliance, and structural integrity. Standard 55, Class B certifies ultraviolet water systems for supplemental bactericidal treatment of disinfected public drinking water and is commonly specified for drinking water products. As the first range of products using mercury-free, instant-on, UV-C LED technology, this opens considerable opportunities for use in residential and commercial point-of-use water dispensers. 
The PearlAqua Micro is the world's smallest UV-C LED water treatment system and with production already reaching over 10,000 units each month it is a clear market leading product. The PearlAqua Micro platform includes five discrete model sizes and a broad range of custom variants offering flow rates of up-to 8 LPM. Supplemental 3rd party disinfection validation in accordance with US EPA UV Disinfection Guidance Manual protocols show up-to 6-log (99.9999%) bacterial reduction, with additional certifications and compliance including:
Watermark - AZ/NZS 3497:1998 
EMC - EN 55022 
CB scheme - IEC 60335 & IEC 62471
CE
RoHS 
REACH 
Japan Food Sanitation and Water Works Law (pending) 
WRAS - BS 6920 (pending)
These wide range of certifications make the PearlAqua Micro platform the most extensively tested UV-C LED water treatment product on the market. It is trusted by leading OEM brands globally and manufactured in the AquiSense Kentucky, USA facility to ISO-9001:2015 quality standards. Application of a range of patents, together with full internal control of the product design and manufacture by AquiSense, results in the PearlAqua Micro products offering superior disinfection performance for a fraction of the cost of competing products.
"The NSF/ANSI 55-2019 certification adds further evidence that AquiSense is leading the way for UV-C LED commercial implementation" said Jennifer Pagan, PhD., AquiSense CTO. "Our team has worked for years supporting NSF International to ensure the new 55 Standard is robust and future-proof. Our OEM partners will now benefit from the added claim of integrating a NSF certified component" concluded Pagan.
Link to NSF International certification can be found here. 
About AquiSense Technologies
AquiSense Technologies is the global leader in UV-C LED systems design and manufacture. They work with leading LED manufacturers to evaluate their devices and then design efficient disinfection products. Using a combination of patented technology and in-depth know-how, AquiSense integrates LED devices into products that solve real world problems in water, air, and surface applications. 
About NSF International
Manufacturers, regulators and consumers look to NSF International for the development of public health standards and certification programs that help protect the world's food, water, consumer products and environment. Their mission is to protect and improve global human health. As an independent, accredited organization, their standards group facilitates the development of standards, and their service groups test and certify products and systems. NSF International also provides auditing and risk management solutions for public health and the environment.
More from Electronic Components & Devices