Utility Work Machine has 3-point hitch, PTO, front lift arm.
Press Release Summary: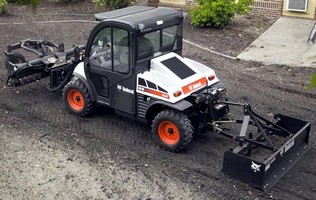 While able to run 40+ Bobcat® attachments from front lift arm with 1,300 lb operating capacity (1,500 lb with counterweight), Toolcat(TM) 5610 also includes Category 1 three-point hitch and hydraulic 540 rpm power take off (PTO) for use of rear implements. Machine's 4-wheel independent suspension and 4-wheel drive system with limited slip differentials lend to smooth operation, while all-wheel-steer capability enables turning radius of 17.5 ft.
---
Original Press Release:

Toolcat 5610 has Three-Point Hitch, PTO and Front Lift Arm for Increased Utility Work Machine Versatility



(WEST FARGO, N.D. - August 2008) Bobcat introduces the Toolcat(TM) 5610, a revolutionary new model in the company's line of one-of-a-kind utility work machines, featuring a three-point hitch and hydraulic power take off (PTO) for rear implements and the ability to run more than 40 front-mounted Bobcat® attachments.

Toolcat utility work machines accomplish many of the same tasks as a compact tractor, attachment carrier, compact loader, utility vehicle and more. The Toolcat 5610 has an available Category 1 three-point hitch that allows buildings and grounds crews, landscapers, agriculture producers, property owners and others to perform a variety of tasks with three-point implements. Customers with existing Category 1 three-point implements, up to 1,775 pounds, will be able to use them on the Toolcat 5610.

The Toolcat 5610 has an available PTO for running implements on the rear of the machine. A hydraulically driven motor powers the 540-revolutions-per-minute PTO to drive implements such as grain augers, multiple stage mowers, tillers, sprayers and snowblowers, among others. High-flow auxiliary hydraulics are required to run the PTO.

In addition to using three-point implements on the rear of the machine, the Toolcat 5610 is also a compact loader and attachment carrier, with a front lift arm that has a rated operating capacity (ROC) of 1,300 pounds. It has a 1,500-pound ROC if the optional counterweight kit is used.

The Bob-Tach(TM) mounting system on the lift arm enables operators to switch between attachments in less than a minute and requires no additional assistance or tools. The Power Bob-Tach system is available as an option to change non-hydraulic attachments with the flip of a switch from inside the cab. More than 40 front-mounted attachments are available for use on the Toolcat 5610.

With the rear PTO three-point hitch and the front lift arm, operators can use two different attachments on the Toolcat 5610 at the same time as long as one of the attachments is non-hydraulic. For example, a hydraulic soil conditioner can be mounted on the front while a non-hydraulic seeder implement is used on the rear of the machine. Using two attachments on the Toolcat 5610 will save the operator time by reducing the need to stop and change attachments between tasks.

Rear remote hydraulics are also an option on the Toolcat 5610. This option allows the operator to control two different hydraulic cylinders by pushing a switch in the machine's cab for momentary flow of five gallons per minute. Many implements have two hydraulic cylinders that position or operate the equipment. This option allows the operator to use all features of these implements, such as to angle or cut a swale with a box blade, adjust the chute on a snowblower, or raise and lower the decks on a multi-stage mower.

The Toolcat 5610 does not have a rear cargo box like the Toolcat 5600. Instead, the Toolcat 5610 has two rear compartments capable of carrying up to 50 pounds of load each. These areas are also convenient for carrying tools and other small items so they do not have to be transported in the cab.

The Toolcat 5610 features four-wheel independent suspension, providing top-of-the-line comfort while maximizing traction, attachment performance and turning. Four-wheel independent suspension is beneficial when mowing, spraying, pushing snow or traveling comfortably over uneven terrain. The wheel and frame isolation of independent suspension increases wheel-to-ground contact, which better absorbs shock to help maintain a consistent mowing height and improve traction.

The full-time four-wheel drive system on the 5610 is designed with an emphasis on performance while offering operation for a variety of conditions. Exclusive limited slip differentials constantly monitor tractive effort, delivering torque to all four wheels while automatically managing distribution of that power to respond to the ground conditions. From powering through mud and snow, maintaining traction to minimize turf damage or traveling an uphill trail, the Toolcat 5610 will automatically sense where traction can be obtained and transfer power there.

A power management feature on the Toolcat 5610 balances power distribution between the attachment and drive system. For example, if the operator is blowing snow and encounters a deeper drift, the attachment and machine will need more time to power through it. Power management automatically makes that necessary adjustment, matching drivetrain and attachment requirements to deliver maximum efficiency and productivity. This feature is also a benefit when mowing heavy brush, tilling or working on an incline.

In addition to power management, the Toolcat 5610 drive system also features a work mode, which delivers precise control of travel speed when finite movements are required. Other drive system features that help provide smooth operation include shift-on-the-fly two-speed, cruise control and both hydrostatic and conventional braking systems.

The all-wheel-steer capability of the Toolcat 5610 delivers a tighter turning radius than most all-terrain vehicles, allowing work to be done in areas that other equipment of the same size and capabilities can't get to. It has a turning radius of 17.5 feet, which is smaller than a pickup truck, compact tractor or utility vehicle. All-wheel steer enables operators to mow around trees, travel trails or move material in tight spaces, such as corrals or between buildings on a university campus.

All-wheel steering also makes the Toolcat 5610 ideal for turf and grass work. The axles on the inside of the turn are at a sharper angle than those on the outside. When the 5610 makes sharp turns on grass or other improved surfaces, the all-wheel steering yields little or no damage to the turf. All-wheel steering also lessens the wear to the tires of the 5610 when the machine is working on concrete or asphalt. Turf tires are available for the Toolcat 5610 to further reduce turf damage.

The Toolcat 5610 has a side-mounted engine, providing easy access to routine maintenance items. In addition, the onboard diagnostics and machine shutdown protection feature lessens the chance of damage to the engine or hydraulic components.
The standard 2-inch receiver hitch and 4,000-pound towing capacity satisfies the majority of maintenance-related towing requirements.

With an automotive-style cab, tilt-steering wheel and drive pedal operation similar to that of a pickup, putting the machine to work is more intuitive and less intimidating than other types of compact equipment. For optimal operator comfort, customers can choose an enclosed cab with heat and air conditioning, a CD player and keyless start.

For the name of the nearest Bobcat dealer, visit www.bobcatdealer.com. For more information, visit http://www.bobcat.com/mytoolcat.

Fifty years ago, Bobcat Company unleashed a way to work better, smarter, faster. During 2008, the company is celebrating the 50th anniversary of Bobcat compact equipment, which began with the Melroe Self-Propelled Loader - a three-wheeled front-end loader - in 1958. That machine evolved into the Bobcat skid-steer loader and spawned the worldwide compact equipment industry. Today, Bobcat continues to lead the world in the design, manufacture and distribution of compact equipment.

Bobcat Company, headquartered in West Fargo, N.D., is part of Doosan Infracore International (DII), a U.S.-based subsidiary of Doosan Infracore, a global manufacturer of construction equipment.

For additional information about Bobcat Company, its products and services, point your Web browser to www.bobcat.com/our_company/media_center. Bobcat® and the Bobcat logo are registered trademarks of Bobcat Company in the United States and various other countries.

©2008 Bobcat Company. All Rights Reserved.

Please send reader inquiries to AdTrack.
Attn: Laura Columbus
P.O. Box 3064
Cedar Rapids, IA 52406-9851
Toll-Free Number: (866) 823-7898

More from Material Processing