Utility Vehicle incorporates intelligent drive system.
Press Release Summary: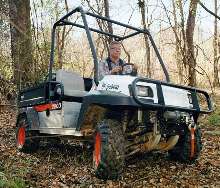 Equipped with Intellitrak® drive system, 4x4 Bobcat® 2200 features automatic locking differentials that engage when needed and disengage when turning. Vehicle is available with 20 hp Honda gas or Kubota diesel engine and is made with corrosion-resistant aluminum chassis and all-aluminum, tubular frame. Features include 4-point ROPS structure, all-terrain tires, 25 mph travel speed, 1,200 lb load capacity, and 800 lb cargo box capacity.
---
Original Press Release:

Bobcat Company Enters 4x4 Market With New Utility Vehicle


IntelliTrak® Drive System Sets 2200 Apart From Competition

(WEST FARGO, N.D. - July 2004) Bobcat Company has premiered its first 4x4 utility vehicle which will be available in June 2004. An IntelliTrak® drive system on the Bobcat® 2200 makes it the only vehicle in its class equipped with automatic locking differentials that engage immediately when a wheel loses traction.

"The IntelliTrak system provides power to all four wheels as needed, preventing one, two or three wheels from spinning without the fourth, so all four wheels must spin together in low traction conditions," said Brad Claus, Bobcat utility product manager. "These traction characteristics give the 2200 exceptional climbing ability and off-road performance.

"Turning with the IntelliTrak system is also easy because of automatic locking differentials which not only engage when needed, but also disengage when turning," said Claus. "So the 2200 not only gives the best off-road traction, but turns lightly on turf and pavement without causing damage to the ground, tires or drive components.

The Intellitrak drive system engages and disengages the 4x4 and differential lock automatically, so it requires no extra levers for the simplest operation possible. It also eliminates the need to stop the vehicle so the 2200 can stay in motion when mud or snow is encountered. It saves time by allowing transitions for off-road, to pavement, to grass without stopping or shifting which saves time and lets you get your jobs done faster.

The rugged 2200 is perfect for transporting people and cargo quickly and effortlessly around widespread areas, whether jobsites or acreages.

The 2200 is available with either a 20-hp Honda gas or 20-hp Kubota diesel engine. All-terrain tires are standard, with mud tires also available on both models.

The newest utility vehicle from Bobcat Company is made with a durable, corrosion-resistant aluminum chassis for longer performance life. The all-aluminum, tubular frame also makes the Bobcat 2200 lightweight yet strong - the gas model weighs 1361 lb. and the diesel model weighs 1433 lb., which reduces ground pressure, making the 2200 compatible with tread-sensitive terrain. A four-point ROPS structure is standard with a cab enclosure available as a dealer installed accessory.

The 2200 utility vehicle has a 1200-lb. vehicle load capacity. It comes standard with an 800-lb. cargo box capacity that has a load-friendly 33-in. loading height, one of the lowest in its class. An 1100-lb. cargo box and electric box dump are available as options.

Ideal for contractors, hobby farmers, ranchers, landowners and outdoorsmen, the Bobcat 2200 has a travel speed of 25 mph and comes standard with the many comfort features. These include an adjustable driver's seat, tilt steering wheel and retractable seat belts, and industry leading leg room.

"Not only did we make the 2200 tough and robust, but it was also designed with operator comfort in mind," said Claus. "By adding the 4x4 model to the Bobcat lineup, we are increasing the number of solutions we can offer this market. The 2200 is a great addition to our family, which already includes the 4x2 2100, the four-passenger 2100S, and the task-minded Toolcat(TM) 5600 utility work machine."

The 2200 utility vehicle will be available at participating Bobcat dealers beginning in June 2004.

North Dakota-based Bobcat Company is a business unit of Ingersoll-Rand, a major diversified industrial company. For the name of the nearest Bobcat dealer, visit www.bobcatdealer.com. Additional Bobcat product information can be seen at bobcat.com/2200.

For additional information about Bobcat Company, its products and services, point your Web browser to www.bobcat.com. Bobcat is a registered trademark of Bobcat Company, a unit of Ingersoll-Rand.

More from Packaging Products & Equipment