Utility Cart keeps packing tools and supplies at hand.
Press Release Summary: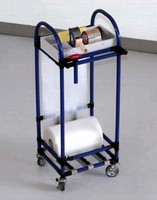 Constructed from plastic-coated steel pipes, joints, and accessories, Packaging Cart allows customers to tailor each cart's size and features to application requirements. It features skatewheel style conveyor tracks for retaining and cradling rolled plastic film, Kraft paper wrap, or dunnage packaging. Set upon stem-style casters with locking brakes, standard cart is 36 in. high and includes compartmented tray or shelving for tape rolls and dispensers, box cutters, and labeling.
---
Original Press Release:

Innovative New Utility Cart Keeps Packing Tools & Supplies Convenient



A new multi-tasking utility cart/work station structure from the Creform® Corporation (Greer, SC) puts the tools and supplies required for repetitive packing duties all in a convenient, portable and ergonomic design. The new unit is constructed using the firm's Creform System, a series of plastic coated steel pipes, joints and accessories-an economical and adaptive system that allows Creform and its customers to custom tailor each cart's size and features to specific application requirements. The Packaging Cart is complete with a simple approach for dispensing rolled plastic film, Kraft paper wrap, or dunnage packaging such as bubble wrap, plus has a compartmented tray or shelving for holding tape rolls and dispensers, box cutters, labeling and writing implements. Specific-size tool holders and holsters can be incorporated into the construction to safeguard and keep frequently used devices handy. Set upon sturdy, stem-style casters with locking brakes, the cart is easily maneuvered to packaging areas, then securely locked into position, providing a stable workstation for shipping and warehousing associates.

The standard Packaging Cart design is built to an ergonomic 36" height for comfort in
pushing and working, and features a lower level framework and surface with skatewheel style conveyor tracks to retain and cradle the roll of wrapping material. These skatewheel conveyor sections form a low friction bed that allows users to unroll the plastic. At the top of the unit, the wrapping material is fed through and pulled between two parallel pieces of the Creform pipe. This makes cutting the plastic easy and safe, and provides enough resistance to retain the tail end of the material each time a cut is made, thus keeping the end ready for the next operation which makes the job easier and saves time.

The Packaging Cart concept also incorporates pre-fabricated curved Creform pipe sections that double as the unit's handles and as side rails to enclose the top tray or shelf. The use of the curved piping also enhances the carts appearance and comfort, and simplifies the structure for easy assembly with fewer part requirements, as well as to bolster it's overall strength and stability.

As with all Creform System-built structures, the ease of integrating design modifications and the simplistic construction methods allows the 'standard' specifications of the Packaging Cart to be customized, including width and length to accommodate varying sizes of packing material rolls, and for larger trays and shelves to hold wide assortment of tools and additional supplies. Carts could also include stationary or fold down side mounted work tables or a clipboard style work surface to hold and display picking lists and packing orders.

The Packaging Carts are available in an assortment of pipe colors that aids in identifying carts by department, personnel or for specific uses. Creform offers the cart as a kit with components ready for user assembly, or as a completed, assembled structure-either version sized and fabricated to customer specifications.

Visit www.creform.com for additional information regarding Creform Corporation, its products and applications.