User Tested DEF (Diesel Exhaust Fluid) Systems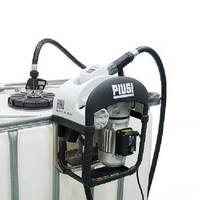 EPA TIER 2 DEF systems



User tested PUISI DEF dispensing systems and components are now available from Industry Depot



Stricter EPA diesel exhaust emission standards were mandated in January 2010. These regulations require reliable, safe and non-contaminating fluid dispensing systems manufactured with materials suitable for handling DEF (Diesel Exhaust Fluid) fluid.



DEF is an organic, non toxic compound composed of 32.5% urea and 67.5% DI water. In a Selective Catalytic Converter System (SCR), diesel exhaust fluid is added to the diesel exhaust in the presence of a catalyst to convert smog producing nitrogen oxide into harmless nitrogen and water vapor. The treated exhaust must meet the strict EPA emission standards for new diesel vehicles as mandated on January 1, 2010. To comply with these regulations, diesel trucks have on-board DEF 16 to 30 gallon capacity storage tanks.



Since 1953, PUISI SpA has been a leader of the lubricant and fuel transfer market, specializing in pumps, meters, compressors and measurement devices.  Their innovative solutions have involved PIUSI in commercial, industrial and government facilities reducing NOx emissions since 2004.



PIUSI SpA established PIUSI USA to bring their high quality DEF dispensers, pumps and meters to the North American transportation industry.  These dispensing systems are essential to reliable, economic, non-contaminating handling and transferring of DEF (Diesel Exhaust Fluid) to on-board truck storage tanks in compliance with ISO 22241-3.



PIUSI THREE25 TOTE DISPENSING SYSTEMS in 12VDC 120VAC



DEF is normally dispensed from  275 gallon and 330 gallon totes and 55 gallon drums.



The tote systems consist of a pump, hose and a nozzle that can be supplied with or without a flow meter and connections to a tote that is usually supplied by the DEF fluid supplier.  DEF drum dispensing systems are similarly equipped but with either a stainless steel base for fixed location installations or with a wheeled trol for moveable convenience.



All equipment is designed with attention to preventing DEF contamination.  Key components including pumps, meters, hoses, nozzeles and fittings have been specially developed to avoid contamination and also to facilitate monitoring and reporting usage.



PUMPS

PIUSI AC and DC pumps for every system feature a seal free design for dependable low maintenance operation.  Rotating or piston style hand pumps are also available for cases where dispensing from a connected spout.



NOZZLES

PIUSI SB325 nozzle with break-away stainless steel spout

Both the metered and automatic nozzles are liquid compatible with DEF DIN 70070. and have a viscosity range from 1 to 6 cSt.



METERS

Easily installed in-line, at the end of a delivery hose or on the nozzle, the K24 meter features a readily readable digital display.  An optional pulser display is available to connect to an external receiver.



HOSE REELS



DEF transfer hose reel



Hose reels are specifically made for DEF use. Designed to limit pressure loss and facilitate use even for high flow rate DEF refueling systems.



CONTROLS DEF System Control System

 

To control and monitor the DEF system for private use, the MC Box dispensing controller can be connected to the delivery system pump and meter. The MC system consists of a multi-user panel, software and accessories to connect a PC to record quantities dispensed and to the account users.



Optional PC installation software i-button user keyshelp to manage up to 120 users with password or i-button user keys to report consumption of single period per user, to memorize the code of the truck and the distance of the progression. Software is capable of managing up to 16 panels.



More DEF Control System Information



All PIUSI DEF and fuel dispensors linked above and many more are available from Industry Depot.

 

More from Fluid & Gas Flow Equipment