USB WiFi Modem Modules turn devices into wireless access points.
Press Release Summary: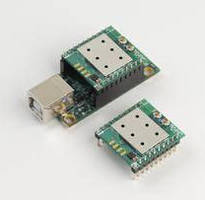 Designed for OEM integration, WiFiHU2 series supports wireless standards, including 802.11b/g/n, and USB 2.0 connectivity. Transmission, protocol stack, and integrated 2TX/2RX MIMO antenna technologies enable over-the-air throughput of 300 Mbps downstream and upstream, with PHY rates using 40 MHz bandwidth. Operating from -40 to +85°C, modules integrate WEP/WPA/WPA2 security protocols for host protection and store firmware/configuration parameters in on-board NVRAM.
---
Original Press Release:

New WiFi Modules Feature Soft AP Support for Easy HotSpot Device Integration



Radicom's WiFiHU2 Modules Helps OEM Turn Devices Into WiFi Wireless Access Points

San Jose, CA - Radicom Research, a modem industry leader, announced today the release of the WiFiHU2 series of USB WiFi modem modules. The WiFiHU2 modules provide easy WiFi connectivity through any processor-based device. With support for the latest wireless standards -- including 802.11b/g/n -- and USB 2.0 connectivity, the WiFiHU2 offers next-generation WiFi transmission, all at a last-generation price.

"The release of WiFiHU2 modules gives OEM manufacturers cutting-edge technology at an affordable price," says Alex Tsau, VP of Operations at Radicom Research. "By enabling cost-effective manufacturing, Radicom ensures that wireless technology demands are never compromised by budget."

The WiFiHU2 features reliable transmissions, protocol stack, and integrated 2TX/2RX MIMO antenna technology for maximum over-the-air throughput of 300Mbps downstream and 300Mbps upstream (PHY rates using 40MHz bandwidth). Optimal analog transceiver performance is achieved through fast receiver Automatic Gain Control (AGC) with synchronous and asynchronous control loops among antennas, antenna diversity functions, and adaptive transmit power control functions.

Designed for industrial OEM use, the WiFiHU2 features low overall power consumption and extreme temperature capabilities (-40°C to +85°C), all in a small footprint. WEP/WPA/WPA2 security protocols ensure host protection and firmware/configuration parameters are stored in on-board NVRAM. Soft AP support transforms any WiFiHU2 device into a WiFi wireless access point, allowing nearby WiFi devices (smartphones, tablet devices, etc.) to connect.to the internet.

"As OEMs are our primary customers, Radicom focuses on including more features while maintaining an affordable price point -- extreme operating temperatures, Soft AP support, and other innovative features," says Tsau. "We are a customer-first company, supporting OEM orders for these modules with fast manufacturing turnaround time to fulfill tight deadlines."

Radicom's WiFiHU2 series comes in two models: WiFiHU2-a and WiFiHU2-c. The WiFiHU2-a model enables a faster time-to-market with built-in dual-chip antennas, eliminating the need for costly and time-consuming RF development. The WiFiHU2-c model offers OEM design flexibility for antenna location using two U.FL connectors to attach antenna cables and antennas. Bulk pricing and custom OEM specifications are available. For more information, visit www.radi.com.

Features:

Soft-AP Support

Designed to meet IEEE802.11 b/g/n(TM) WLAN standards

Small size: 1" x 1.1" x 0.25"(H)

-40°C to +85°C operating temperature

2 x 2 MIMO technology for exceptional reception and throughput

300Mbps receive PHY rate and 300Mbps transmit PHY rate using 40MHz bandwidth

150Mbps receive PHY rate and 150Mbps transmit PHY rate using 20MHz bandwidth

USB 2.0 hot swappable interface

Compatible with USB2.0 host controllers

Operates in 2.4GHz frequency bands

Fast receiver Automatic Gain Control (AGC)

WiFi security using WEP, WPA and WPA2

2 U.FL TX/RX antenna ports

2 LED driver outputs for visual monitoring of link and activity

Windows 2K, XP, Vista, Win7 support

Linux 2.4/2.6/3.0 support

RoHS compliant

Applications:

Embedded Systems

POS Systems

Hand-held Devices

Medical Devices

IP Cameras

Set Top Box

Cable Replacement

Pricing & Availability
WiFiHU2-a and WiFiHU2-c are now available with prices starting at US$19.00 in quantities of 1,000 pieces. Bulk discounts are available for higher OEM volume requests. Customized OEM specifications are welcome.

About Radicom Research, Inc
Founded in 1993, Radicom Research develops reliable, quality, easily integrated dial-up and wireless modems at competitive prices. Headquartered in San Jose, California with offshore manufacturing capabilities, Radicom specializes in designing and manufacturing award-winning embedded modem modules for OEM, including design modifications and custom products to meet specific requirements and unique needs.

OEMS and product designers are invited to contact Radicom Research for consultation and assistance in implementing Radicom's state-of-the-art WiFi modem modules to efficiently meet their system applications.
Phone: 1-408-383-9006, ext. 112
Fax: 1-408-383-9007
Email: sales@radi.com
Website: www.radi.com

More from Software