USB Type-C Connectors support high-speed data delivery.
Press Release Summary: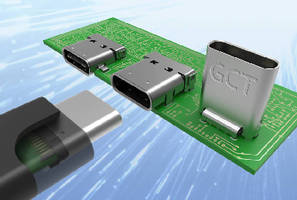 Designed for mobile and smart devices, USB Type-C Connectors deliver speeds up to 10 Gbps for data transfer, audio and video connectivity, supporting HDMI, DisplayPort, and VGA. Units also support USB Power Delivery standards of charging capability, with rapid charging up to 100 W. Range includes both horizontal and vertical USB type C receptacles. Available in hybrid of thru hole and SMT, horizontal receptacles allow optimized co-planarity and inspection after processing.
---
Original Press Release:

GCT Launches New High Performance Range of USB Type-C Connectors for Next Generation High-Speed Data Delivery and Device Charging Applications



Global Connector Technology (GCT), a leading global supplier of PCB connection solutions, has introduced a range of high-performance USB Type-C connectors that sets new market standards in design flexibility, transfer speed, power and usability.



Designed for mobile and smart devices, the USB Type-C connector is ready for next generation applications delivering speeds up to 10 Gbps for data transfer, audio and video connectivity, supporting HDMi, DisplayPort and VGA.  The connector also supports USB Power Delivery standards of charging capability, with rapid charging up to 100 watts.



Together with these capabilities comes easier usability: the new reversible plug design allows the cable to be plugged upside down making it a more user-friendly interface solution for consumers.



GCT's range of five products includes both horizontal & vertical USB type C receptacles.  Horizontal receptacles are available in a hybrid of thru hole and SMT, allowing superior co-planarity and facility for inspection after processing.   Top mount, mid mount versions are available in short and long body types.



GCT's drawn metal shell design for horizontal parts provides superior electromagnetic interference (EMI) shielding compared to stamped sheet metal housings.  The enhanced mechanical strength of the shell structure also makes GCT's USB Type-C connectors suitable for the automotive, industrial, medical and instrumentation markets.



Commenting on the launch, GCT Marketing Manager Laurence Hill said "GCT's new line of USB Type-C connectors offers significant performance advancement over previous USB standards, providing faster data rates, higher power, and A/V connectivity in one interface, as well as offering more design flexibility for engineers designing the next generation of electronics products."



To learn more about GCT's USB Type-C connectors or to discuss specific design requirements please visit: www.gct.co



Specific link for digital publication:  http://gct.co/usb-connectors/usb-c.aspx?Interface=C&



About Global Connector Technology

Global Connector Technology (www.gct.co) is headquartered in Hong Kong and has sales and support locations in Hong Kong, North America and Europe. Part of a privately held group of companies, GCT has manufacturing locations in mainland China and a dedicated engineering team based in Hong Kong. GCT is enjoying rapid growth with its focus on expanding markets including handheld devices, computing, industrial, security, medical and consumer. GCT is an ISO9001 approved organization and its products are fully RoHS and Reach compliant.



GCT USA Contact details:

Global Connector Technology, Inc.

354 Merrimack Street

Building 1, Suite 262,

Lawrence, MA

01843

Tel: +1 978 2081618

E-mail: sales@gct-americas.com

www.gct.co

More from Packaging Products & Equipment