USB to Serial Media Converters offer integral isolation.
Press Release Summary: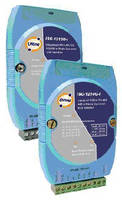 Intelligent and stackable expansion modules, ISC-1210U-I and 1310U-I, connect to PC USB port/hub to provide one RS-232/-422 or one RS-485 serial port. Powered by USB interface, products deliver auto direction flow control on RS-485 and support full-duplex transmission for RS-232/-422. RS-232 standard also supports handshaking signals such as RTS/CTS. Along with 3,000 Vdc isolation, products offer transient suppression (RS-485 data lines) and support baud rates to 115.2 Kbps.
---
Original Press Release:

ORing Releases ISC-1210U-I / 1310U-I Industrial USB to Serial Media Converter



ISC-1210U-I / 1310U-I
Industrial USB to Serial Media Converter with Isolation

Highlights
Auto direction flow control on RS-485
Full-Duplex RS-232/RS-422 support
Provide isolation protection
Auto switching serial type and baud rate
Ultra low power consumption and can be powered by USB interface

Features
Fully compliant with USB specification 1.1
Support Full-Duplex transmission for RS-232/RS-422
RS-232 support RTS/CTS handshake signals
Provide 3000 VDC isolation protection
Transient suppression on RS-485 data lines
Auto detect and switching for USB to RS-232/422/485
Auto detect and switching baud rate up to 115.2Kbps
USB bus powered with ultra low power compliant
Wide operating temperature range from -10°C to 70°C
NYLON Din-Rail mounting adapter SECC panel mounting bracket

Introduction
The ISC-1210U-I / ISC-1310U-I convert is an intelligent, stackable expansion module that connects to a PC USB port or USB Hub via the Universal Serial Bus(USB) port, providing one High-Speed RS-232/RS-422 or RS-485 serial port(jumperless). The ISC-1210U-I / ISC-1310U-I features easy connectivity for traditional serial devices. The RS-232 standard supports full-duplex communication and handshaking signals (such as RTS, CTS) and The RS-485 control is completely transparent to the user and software written for half-duplex COM works without any modifi cation. The ISC-1210U-I / ISC-1310U-I's Opto-isolators provide 3000 VDC of isolation to protect the host computer from ground loops and destructive voltage spikes on the RS-232/RS-422 and RS-485 data lines. ISC-1210U-I / ISC-1310U-I also offer internal surge-protection on their data lines. Internal high-speed transient suppressors on each data line protect the modules from dangerous voltages levels or spikes. The ISC-1210U-I / ISC- 1310U-I module derives the power from USB port and doesn't need any aid of external power adapter.

More from Controls & Controllers