USB Stick evaluates ARM Cortex-M3 based controllers.
Press Release Summary: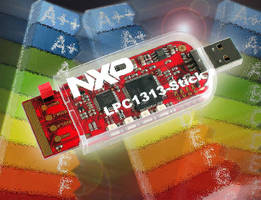 Equipped with un-limited HiTOP debugger, GNU Arm compiler, and professional Tasking compiler as well as applications code, LPC1313-Stick evaluates ARM Cortex-M3 based LPC1300 controllers from NXP. EnergyBench can be executed with different supply voltages and CPU frequencies to get detailed information on power consumption. Access to LPC1313 controller's peripherals is provided via 80-pin connector and can be used with prototype extension boards.
---
Original Press Release:

LPC1300 Evaluation with Benchmarking of Performance and Power Consumption



The LPC1313-Stick from Hitex is the brand new tool for evaluation of the ARM Cortex-M3 based LPC1300 controller family from NXP featuring a high level of integration and low power consumption.

The LPC1313-stick comes with an un-limited HiTOP debugger, GNU Arm compiler and the professional Tasking compiler as well as a large selection of application code. In addition, benchmarking is easy with the included tools from EEMBC. The EnergyBench can be executed with different supply voltages and CPU frequencies to get detailed information on power consumption. For performance benchmarking examples from EEMBC's CoreMark are included.

With the complete toolchain, detailed documentation and helpful examples, the LPC1313-Stick is the perfect tool for a fast and efficient evaluation of the LPC1313 controller.

A version equipped with the LPC1343 offering an additional USB interface is also available from Hitex. Access to most of the LPC1313 controller's peripherals is provided via an 80-pin connector and can easily be used with the prototype extension boards. LPC1313-Stick and prototyping board are available in the Hitex webshop.

For more details, please contact:

Germany

Hitex Development Tools

Greschbachstr. 12

D-76229 Karlsruhe, Germany

Internet: http://www.hitex.de/www.hitex.com

Customer Inquiries

Frank Buchner

Phone: +49/721/9628-125

Fax: +49/721/9628-149

E-mail: sales@hitex.de

Europe

Hitex Development Tools

Greschbachstr. 12

D-76229 Karlsruhe, Germany

Internet: http://www.hitex.de/www.hitex.com

Customer Inquiries

International Sales

Phone: +49/721/9628-0

Fax: +49/721/9628-149

E-mail: sales@hitex.de

USA

Hitex Development Tools

2062 Business Center Drive, Suite 230

Irvine, CA 92612

Internet: www.hitex.com

Customer Inquiries

Phone: (800)-45HITEX

Phone: +1/949/86 30 320

Fax: +1/949/86 30 331

E-mail: sales@hitex.com

More from Electronic Components & Devices