USB-Powered DAQ Device is designed for classrooms.
Press Release Summary: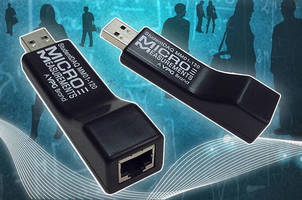 Used with resistive strain gages, StudentDAQ does not require calibration. Built-in support for single channel of full-bridge, half-bridge, and 120Â Ω quarter-bridge inputs, including all necessary bridge completion, is standard, and operation is performed with commands sent via USB connection. All input connections are handled via RJ-45 connector, and 24-bit delta-sigma ADC provides ±16,000 µE measurement range at 80 Hz and gage factor setting of 2.00 with 1% of reading accuracy.
---
Original Press Release:

Micro-Measurements® Compact, USB-Powered DAQ Delivers Simple Set-Up and Ease-of-Use for the Classroom



MALVERN, Pa. – Micro-Measurements®, a Vishay Precision Group, Inc. (VPG) brand, today introduced a new pocket-sized, USB-powered data acquisition device for use with resistive strain gages. Optimized for classroom environments or convenient, low-cost gage installation verification, the easy-to-use StudentDAQ doesn't require calibration, and it features built-in support for a single channel of full-bridge, half-bridge, and 120 Ω quarter-bridge inputs, including all necessary bridge completion.



Operation of the StudentDAQ is performed with commands sent via a USB connection. User-friendly application software is provided to control the unit using a Microsoft® Windows®-based PC. Complete source code, written in National Instruments® LabVIEW®, is included along with a .NET interface. All input connections are handled through a single RJ-45 connector.



The StudentDAQ's 24-bit delta-sigma A/D converter provides a ±16,000 µε measurement range at 80 Hz and a gage factor setting of 2.00, with a 1% of reading accuracy. To minimize temperature effects on lead wires, the unit supports a full three-wire, quarter-bridge connection. The balance of the circuit is manually controlled through the software. Pregaged beams are available to use with the StudentDAQ and are supplied with an appropriate experiment in mechanics for classroom use.



"The StudentDAQ coupled with a single grid strain gage is the perfect combination for stress/strain classroom lab experiments, homework assignments, advanced science fair projects, or independent study," said Donielle Dockery, Micro-Measurements senior field design engineer. "The StudentDAQ is easy to set up and allows users to begin recording strain gage data at up to 80 Hz in minutes. They simply plug the unit into a USB port on their PC, crimp the connector to the end of their bridge instrument, plug into the on-board socket, and start the supplied software. It's a powerful, low-cost tool for exploring the fascinating world of experimental mechanics."



Further information about the StudentDAQ MM01 and other Micro-Measurements products is available at www.micro-measurements.com. Follow Micro-Measurements at www.strainblog.com or twitter.com/strain_gage.



About Vishay Precision Group, Inc. (NYSE: VPG)

VPG is an internationally recognized designer, manufacturer and marketer of: components based on its resistive foil technology; sensors; and sensor-based systems specializing in the growing markets of stress, force, weight, pressure, and current measurements. VPG is a market leader of Foil Technology Products, providing ongoing technology innovations in precision foil resistors and foil strain gages, which are the foundation of the company's Force Sensors Products and its Weighing and Control Systems. The product portfolio consists of a variety of well-established brand names recognized for precision and quality in the marketplace. To learn more, visit VPG at www.vpgsensors.com.



About Micro-Measurements

Micro-Measurements, a Vishay Precision Group, Inc. (VPG) brand, is dedicated to the development, manufacture, and marketing of resistive-foil sensors for high-precision strain measurement. Micro-Measurements offers a full complement of strain gages, PhotoStress® equipment and coatings, data acquisition systems, and supplies necessary to obtain accurate, reliable stress data. Our products are used throughout the industrialized world — both in the practice of stress measurements analysis and as the sensing elements in a wide variety of transducers for measuring physical variables (weight, force, torque, pressure, etc.). More information about Micro-Measurements is available at www.micro-measurements.com.



Micro-Measurements and PhotoStress are registered trademarks of VPG.



Link to further information:http://www.vishaypg.com/micro-measurements/instruments/StudentDAQ/.



Link to product photo: https://www.flickr.com/photos/vishaypg/21652487630/sizes/l.



Vishay Precision Group, Inc. Contact:

Marti Spalding

Director, Global MarCom

Tel: +1 919-374-5515

Email: marti.spalding@vpgsensors.com