USB Magnetic Swipe Reader is fully user-configurable.
Press Release Summary: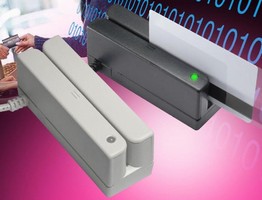 Suited for retail, banking, and security environments, ACR75 series connects to host systems via USB keyboard interface and can be configured to work with existing application software. It reads data from tracks 1, 2, and 3 of ISO7811 encoded magnetic card, and promotes data capture through programmable data formatting, headers, and terminators for keystroke simulation. Keyboard HID interface does not require driver.
---
Original Press Release:

Programmable USB Magnetic Swipe Readers are Easily Configured for Legacy Application Software



Reading, UK, 22 January, 2007 - Access has introduced the user-configurable ACR75 family of Universal Serial Bus (USB) magnetic swipe readers (MSRs). The devices connect to host systems via an industry-standard USB keyboard interface and are easily configured to work with existing application software. Data formatting, headers and terminators can be programmed to simulate the keystrokes a user would type into a keyboard, greatly improving data capture accuracy and speed. For example, the cardholder's name, account number and expiry date could be extracted and entered into separate fields. Once set, the configuration can be cloned with Access' SoftProg utility.

The MSRs are ideal for retail, banking and security environments. In retail point-of-sale they can be used to read loyalty card and gift cards, as well as debit and credit card account numbers. In both sectors the MSR can be used to enable staff log-on and security system access.

The ACR75 reads data from tracks 1, 2 and 3 of an ISO7811 encoded magnetic card and can be powered from a bus powered USB port eliminating the need for additional power supplies or cabling. The industry standard keyboard HID interface does not require a driver, enabling the ACR75 to be integrated onto PDA based applications requiring mobile MSR data capture, as well as laptop and PC applications.

For further information and reader enquiries:
Roger Wylie, Managing Director, Access Limited, 18 Suttons Business Park, Reading, Berkshire RG16 1AZ, UK
Tel: +44 118 966 3333
E-mail: roger.wylie@accesskeyboards.com
Web: accesskeyboards.com

PR agency contact:
Bob Jones, TechnoPR Limited
Tel: +44 (0) 1225 866930
E-mail: bob.jones@technopr.com
Web: www.technopr.com

About Access
Access, an ISO9001 accredited company based in Reading (UK), designs, manufactures and distributes innovative equipment that enables fast and accurate input of information into electronic systems. Products include custom and standard computer keyboards, keypads, OCR and biometric passport readers, bar code readers, magnetic swipe card readers and smartcard readers. The company also provides text displays for point-of-sale terminals. Over three-quarters of the products sold are created to meet the requirements of a specific application and Access works closely with its customers to understand their challenges and to come up with reliable solutions that provide effective functionality at the lowest cost-of-ownership. All of them are designed to streamline information processing and save both time and cost. All meet the highest standards in electrical, mechanical and aesthetic design.

Customers of Access are found throughout the world. The company's main markets are retail point-of-sale, retail banking, airports (check-in systems and boarding gate readers), stock exchanges, rugged mobile computing and industrial equipment. Major customers include Harrods, the New York Stock Exchange, Barclays Bank, British Airways and Qantas. Access designs and manufactures in the UK. Hardware and software engineering is based here too, and the company has extensive experience in meeting international standards for equipment interfaces and operating systems. Access is a company committed to providing a responsive and professional service to its customers. It also prides itself on maintaining the highest standards of integrity and business ethics. The company values long-term relationships with customers and relishes the challenges of helping them manage the input and output of data from electronic systems in the most cost-effective way.

More from Software