USB Device Sharing Software enables remote equipment access.
Press Release Summary: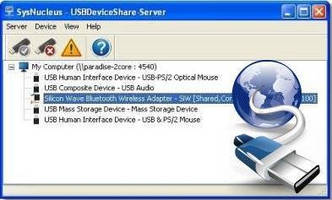 USBDeviceShare is software for sharing USB devices and accessing them remotely over network, LAN, or Internet. Able to share any number of devices, solution lets USB devices connected to remote computers in local network be accessed as if they are plugged in locally. Applications which work with device can then be run without it being locally present. Program exhibits stable and reliable operation with range of USB devices and bandwidth requirements.
---
Original Press Release:

Sysnucleus Releases New Version of USBDeviceShare, Access USB Over Network Software



SysNucleus, a leading software development company which has built its solid grounds on the software market since 2003 concentrating mostly on device driver/system products and development tools, announced release of the new version of USBDeviceShare, software for sharing USB devices and accessing them remotely over Network, LAN or Internet. Using this software, USB devices connected to remote computers (in local network or internet) can be accessed as if they are locally plugged in. Applications which work with the device can then be run without the device being locally present.

"This is very simple and easy to use. All you have to do is to install USBDeviceShare Server on the computer where USB devices are present. Install USBDeviceShare-Client where devices need to be remotely accessed. That's all", said Sreejith S, Technical Director, SysNucleus. "With this software one can access remote USB devices, rapidly configure and deploy any USB device in a virtual session, make USB devices connected to thin clients from remote session".

This software supports a wide range of USB devices; moreover, with a single USBDeviceShare Server license you can share any number of devices from that server without paying for each device. USBDeviceShare client is absolutely free for those who purchase Server license.

Key Benefits:
1. Access USB devices from anywhere
With USBDeviceShare you can connect to your USB device remotely over internet. This helps to access devices which are not easily portable. Your device which is physically present at your home or office is safe and secure.

2. Cut down costs. Share expensive USB devices in your organization with all employees.
Using USBDeviceShare USB devices plugged in to one computer can be accessed by users logged in to other computers present in the same network. USB devices like scanners and oscilloscopes (or any other USB device) which are expensive as well as 'not easily portable' can be shared and accessed over network using USBDeviceshare. You need not provide each employee in your organization with a separate USB device. Share devices instead.

3. Supports all types of USB devices
All types of USB devices like scanners, printers, communication devices, storage devices, human interface devices, video, audio, vendor specific devices etc can be shared and accessed remotely using USBDeviceShare.

4. Easy to use and stable
We have tested USBDeviceShare with a variety of USB devices with a wide range of bandwidth requirements. We offer USB Device Share as an easy-to-use as well as stable solution to access remote USB devices.

For more information about USBDeviceShare please visit www.sysnucleus.com/usbshare/index.html or contact us at contact@sysnucleus.com

More from Material Processing