USB Charger features tamper-resistant receptacle.
Press Release Summary: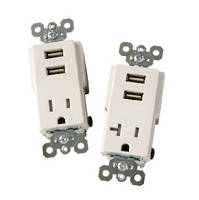 Available in 15 and 20 A, 125 V versions, Fed Spec USB Charger with tamper-resistant receptacle has two 5 Vdc USB ports that work with USB 2.0 and 3.0 compatible devices. Charger's 2.1 A USB type A receptacle eliminates need for bulky AC adapters. Back and side wire terminals accommodate #14 AWG to #10 AWC stranded and solid wire. Designed to meet 2011 NEC® Tamper-Resistant requirements, receptacle has patented shutter system that prevents improper insertion of foreign objects.
---
Original Press Release:

Legrand Introduces New Commercial Grade Pass & Seymour® USB Charger with Tamper-Resistant Receptacle



New USBs Have Federal Specification Certification



SYRACUSE, N.Y. – Legrand, a leading provider of electrical wiring devices and home systems, has announced the availability of its Pass & Seymour® Fed Spec USB Charger with Tamper-Resistant Receptacle. It is available in 15A and 20A, 125V versions.



The Pass & Seymour® Fed Spec USB Charger with Tamper-Resistant Receptacle has two 5-volt DC USB ports that work with USB 2.0 and 3.0 compatible devices. The 2.1A USB type A receptacle charges quickly and eliminates the need for bulky AC adapters. Its back and side wire terminals accommodate #14 AWG - #10 AWG stranded and solid wire.



Safety is an important aspect of the new, compact-design commercial grade USB. It features a single Tamper-Resistant receptacle with a patented shutter system that prevents the improper insertion of foreign objects.  It also meets the 2011 National Electric Code® Tamper-Resistant requirements and is ETL tested in the USA and Canada.



"This USB device was designed specifically for the commercial market where strength, safety and durability are key requirements," said Gretchen Valentino, product line manager for Legrand Electrical Wiring Systems. "With its Federal Specification certification, these USB devices can easily handle heavy and consistent daily use in a number of commercial applications."



The new USB receptacles are perfect for the following markets: education, retail, hospitality and lodging, office, health care, institutional and multiple dwelling units.



In these markets, lasting retention is a key factor. "The new USB device meets this challenge with triple-wipe brass contacts, an auto-ground stainless steel clip to assure positive grounding, as well as a zinc-plated ground terminal screw.  In addition, the screw-pressure-plate back wiring makes installation fast and easy," adds Valentino. 



The Fed Spec USB Charger with Tamper-Resistant Receptacle complies with the following test requirements: UL 498, UL 1310, Fed Spec WC596, CSA C22.2 No. 42, CSA C22.2 No. 223.



It is available in nine different colors: White, light almond, ivory, black, brown, gray, red, green and nickel.



Connect with Legrand on Facebook www.facebook.com/legrandna, Twitter www.twitter.com/passandseymour or www.twitter.com/legrandna, and YouTube http://www.youtube.com/legrandna



About Legrand

Legrand is the global specialist in electrical and digital building infrastructures. Its comprehensive offering of solutions for use in commercial, industrial and residential markets makes it a benchmark for customers worldwide. Innovation for a steady flow of new products with high added value and acquisitions are prime vectors for growth. Legrand reported sales of $5.8 billion in 2011. Legrand has a strong presence in the North American market, with a portfolio of well-known product lines that include Cablofil, Electrorack, Middle Atlantic, On-Q, Ortronics, Pass & Seymour, Vantage, Watt Stopper and Wiremold. The company is listed on NYSE Euronext and is a component stock of indexes including the CAC40, FTSE4Good, MSCI World, ASPI and DJSI (ISIN code FR0010307819). www.legrand.us







More from Electrical Equipment & Systems