USB-C Controller supports direct 3.3-20 V operation.
Press Release Summary: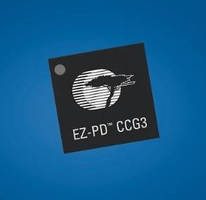 Based on 48 MHz ARM® Cortex®-M0 processor, EZ-PD™ CCG3 Controller with Power Delivery integrates independent 20 V V(BUS) gate drivers for provider and consumer power paths, two 1 W V(CONN) Field-Effect Transistors that provide power to USB-C cables, and USB Billboard Controller that informs USB host of supported Alternate Modes and failures. Programmable single-chip device streamlines design of USB-C accessories, such as adapter dongles, power adapters, and power banks.
---
Original Press Release:

Cypress Simplifies Design of USB-C Hosts, Accessories and Power Adapters with New EZ-PD CCG3 Controller



Highly Integrated, Programmable, Single-Chip Solution Includes 20-V Support and USB Authentication



SAN JOSE, Calif., – Cypress Semiconductor Corp. (NASDAQ: CY), the market's leading USB innovator, today announced availability of a new USB-C controller with Power Delivery (PD) that streamlines the design of USB-C accessories, such as adapter dongles, power adapters and power banks. The new EZ-PD™ CCG3 controller offers an unparalleled level of integration that minimizes bill-of-material costs and simplifies designs, replacing multiple discrete components with a single-chip solution.



The EZ-PD CCG3 controller supports direct 3.3-V to 20-V operation. It integrates independent 20-V V(BUS) gate drivers for provider and consumer power paths, two 1-W V(CONN) Field-Effect Transistors (FETs) that provide power to USB-C cables, and a USB Billboard Controller that informs the USB host of supported Alternate Modes and failures. 20-V operation is enabled by the integration of a high-voltage regulator and analog blocks that protect systems against overvoltage and overcurrent conditions. The CCG3 controller includes an ARM® Cortex®-M0 processor, two 64KB flash memory banks with read-while-write operation and an integrated Crypto Engine for fail-safe firmware updates with authentication. CCG3 also incorporates an analog switch for non-USB signals, such as DisplayPort control signals, along with four serial communication blocks, each of which can be configured to I(2)C, SPI or UART serial protocols. More information on the CCG3 controller is available at http://www.cypress.com/ccg3.



"With the USB-C and PD specifications continually evolving and the next-generation PD 3.0 standard scheduled to be released in the first quarter of 2016, customers continue to seek reduced system complexity and lower solution cost," said Ajay Srikrishna, vice president of the USB product line at Cypress. "Cypress's programmable EZ-PD controllers enable our customers to easily implement updates to keep up with these changes, and now, our highly-integrated EZ-PD CCG3 controllers with 20-V support, built-in Billboard controller, crypto engine and dual 64kB flash memory banks enable easier system design and reduce bill of materials."



The EZ-PD CCG3 controller includes support for legacy USB battery charging schemes, ensuring CCG3-based hosts and accessories are interoperable with legacy USB power providers and consumers. Integrated electrostatic discharge (ESD) protection circuits provide system-level protection up to 15kV.



Cypress will demonstrate its USB-C and PD portfolio, along with its automotive, PSoC®, MCU, Bluetooth® Low Energy and memory solutions, from February 23-25 at the Embedded World 2016 exhibition in booth number 148, located in Hall 4A, at the Nuremberg Messe in Germany.



The USB Type-C standard is gaining rapid support with top-tier PC and electronics manufacturers by enabling slim industrial designs, easy-to-use connectors and cables, and the ability to transmit multiple protocols and deliver up to 100W of power. The USB Type-C standard's 2.4-mm-high connector plug is significantly smaller than current 4.5-mm USB Standard-A connector. In addition to the transport of USB signals, DisplayPort and Thunderbolt signals can be delivered over the same connector via the USB Type-C standard's Alternate Mode capability.



Product Availability

The EZ-PD CCG3 controller is now sampling in 40-pin QFN and 42-ball chip-scale packages. The controller will be in production in the second quarter of 2016. The CY4531 evaluation kit is available for pre-order now and will begin shipping in the last week of February 2016. More info on Cypress's USB Type-C and PD solutions is available at www.cypress.com/Type-C.



Follow Cypress Online

--  Read our Core & Code technical magazine and blog.

--  Join the Cypress Developer Community.

--  Follow @CypressSemi on Twitter.

--  Visit us on Facebook and LinkedIn.

--  Watch Cypress videos on our Video Library or YouTube.



About Cypress

Cypress (NASDAQ: CY) delivers high-performance, high-quality solutions at the heart of today's most advanced embedded systems, from automotive, industrial and networking platforms to highly interactive consumer and mobile devices. With a broad, differentiated product portfolio that includes NOR flash memories, F-RAM™ and SRAM, Traveo™ microcontrollers, the industry's only PSoC® programmable system-on-chip solutions, analog and PMIC Power Management ICs, CapSense® capacitive touch-sensing controllers, and Bluetooth® Low-Energy and USB connectivity solutions, Cypress is committed to providing its customers worldwide with consistent innovation, best-in-class support and exceptional system value. To learn more, go to www.cypress.com.



Cypress, the Cypress logo, PSoC and CapSense are registered trademarks and EZ-PD, F-RAM and Traveo are trademarks of Cypress Semiconductor Corp. All other trademarks are property of their owners.



CONTACT:

Samer Bahou

Cypress PR

(408) 232-4552

samer.bahou@cypress.com



Web Site: http://www.cypress.com

More from Fluid & Gas Flow Equipment