USB 3.0-SATA Bridge Controller supports RAID storage devices.
Press Release Summary: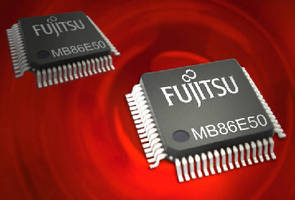 Compliant with USB 3.0 SuperSpeed standard, MB86E50 Series supports RAID 0 and 1 as well as JBOD and Dual LUN configurations. Integrated encryption hardware engine makes controller suitable for RAID storage applications using external hard disks or SSDs. With transfer speed up to 5 Gbps, device supports hot plugging of devices as well as USB attached SCSI and Bulk-only Transport protocols. IC incorporates 32-bit RISC MPU and embedded SSCG to optimize SuperSpeed performance while minimizing EMI.
---
Original Press Release:

Fujitsu MB86E50 Controller Delivers Optimal Performance for USB 3.0-SATA RAID External Storage Applications



Features 5Gbps speed and high-speed hardware encryption; supports HDD and SSD and has earned SuperSpeed USB-IF Certification

Langen, Germany, - Fujitsu Semiconductor Europe, a leading innovator of USB 3.0-compliant technology, has expanded its line-up of USB 3.0-SATA bridge controllers, introducing the new MB86E50 series for external USB 3.0 RAID storage devices. MB86E50 has also passed USB-IF compliance testing conducted by the USB Implementers Forum and is now certified as compliant with the USB 3.0 SuperSpeed standard.

The Fujitsu MB86E50 is specifically designed for external USB 3.0 dual-port RAID and non-RAID configurations. It supports RAID 0 (striping) and RAID 1 (mirroring) as well as JBOD ('just a bunch of disks') and Dual LUN configurations. An available integrated high-speed encryption hardware engine makes the controller an ideal design choice for demanding RAID storage applications using external hard disks or solid state drives.

In addition to RAID, the MB86E50 features transfer speeds up to 5Gbps, hot plugging of devices, and support for the USB attached SCSI (UAS) and Bulk-only Transport (BOT) protocols. The controller incorporates a high-performance 32-bit RISC MPU and an embedded SSCG to optimise SuperSpeed performance while reducing EMI. The MB86E50 includes full legacy support for high-speed USB (480Mbps) and full-speed USB (12Mbps) devices, and supports SATA Gen2i (3Gbps) and Gen1i (1.5Gbps) and ATA drives.

The MB86E50 is fabricated using the Fujitsu 65nm CMOS technology, offering low-power consumption and expandability. The bridge controller supports GPIOs including pulse width modulation, provides native command queuing (NCQ) functionality, and includes a serial peripheral interface (SPI) for serial Flash ROM and multiple SPI devices. The MB86E50 features a Pb-free (RoHS) design, customisable product and version identifiers, and a compact 68-pin QFN (0.4mm pitch, 8 x 8mm) package for greater flexibility. Only one external crystal (25MHz) is required.

With the MB86E50, Fujitsu enables drive and system manufacturers to offer RAID-enabled storage based on the state-of-the-art USB 3.0 standard. The USB 3.0-SATA bridge controller combines the advantages of USB 3.0 - including higher transfer rates, plug-and-play interoperability, and hot-swapping - with the greater reliability and performance potential of RAID configurations. Available with a hardware-based high-speed encryption engine, the MB86E50 USB 3.0-SATA bridge controller offers a truly robust, secure and flexible external storage solution.

Press Contacts

About Fujitsu Semiconductor Europe

Fujitsu Semiconductor Europe is a major supplier of semiconductor products. The company provides advanced systems solutions to the automotive, digital TV, mobile telephony, networking and industrial markets. Engineers from design centres dedicated to microcontrollers, graphics controllers, mixed-signal, wireless, multimedia ICs, ASIC products and software development, work closely with Fujitsu Semiconductor's marketing and sales teams throughout EMEA to help satisfy customers' systems development requirements. This solutions approach is supported by a broad range of advanced semiconductor devices, IP, building blocks and software.

For more product information, please visit the company's website at:
www.fujitsu.com/emea/services/microelectronics/

All other company or product names mentioned herein are trademarks or registered trademarks of their respective owners. Information provided in this press release is accurate at time of publication and is subject to change without advance notice.

On July 1st, 2010, we re-named the company, changing it from Fujitsu Microelectronics Europe to Fujitsu Semiconductor Europe to better reflect our business.
We are still committed to providing the same quality service, maintaining the highest values and delivering latest technology semiconductor solutions and related products.
If you have any questions or need to contact us, please visit our website http://emea.fujitsu.com/semiconductor

More from Sensors, Monitors & Transducers