Urethane Squeegee Holders suit screen printing applications.
Press Release Summary: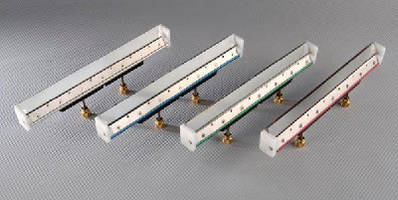 Available for over 50 printing platforms used world-wide, including DEK, MPM, Panasonic, Ekra, Yamaha, Hitachi, Samsung, and Speed-Print, Poly-Max(TM) Squeegees are specifically tailored for solar cell conductor printing, conductive epoxy printing, PC board nomenclature printing, solder mask printing, and conductive resist printing. Units come in green, red, blue, or silver with Shore A blade durometers of 50, 80, and 90. Durometers may also be customized by end user.
---
Original Press Release:

Transition Automation Introduces Poly-Max(TM) Urethane Squeegees Holders



Tyngsboro, Massachusetts, USA, -Transition Automation, Inc. the worldwide leader in the manufacturing and distribution of Permalex® Edge Metal Squeegees, holder systems, and advanced SMT printers has released a line of squeegee holders specifically tailored for Advanced Screen printing applications including Solar Cell Conductor printing, Conductive Epoxy Printing, PC board nomenclature printing, solder mask printing, and Conductive Resist printing.

This new product line is immediately available for over 50 printing platforms used world-wide, including DEK, MPM, Panasonic, Ekra, Yamaha, Hitachi, Samsung, and Speed-Print. Poly-Max(TM) Squeegees share the same simplified part numbering as Transition's popular Permalex(TM) brand of Metal Squeegees, with the only exception of the prefix code: Ply (instead of Plx). The Holders are available in Green, Red, Blue or Silver, and the durometers may be customized by the end user. Blade Durometers of 50, 80, and 90 (Shore A) are maintained in stock for immediate delivery.

Transition Automation, Inc. is a worldwide leader in the manufacturing and distribution of Permalex® Edge Metal Squeegees, holder systems, and advanced SMT printing systems. Founded in 1989, Transition Automation, Inc. continues to advance the state of the art in surface mount solder paste printing by innovating the critical and high-cycle squeegee component of the SMT assembly process. The company is located at 5 Trader Circle, Building D, Tyngsboro, Ma 01879 USA . Phone: 978-649-2400; Toll-Free U.S.: 800-648-3338; Fax 978-649-2402, Web: www.transitionautomation.com