UPS and Maintenance Bypass provide rack-mounted protection.
Press Release Summary: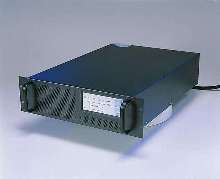 UPStation® GXT5000R-208 208 V, 5 kVA UPS delivers scalable power protection in 3U electronics and 3U-battery modules. Double-conversion, on-line technology provides sine-wave output and zero transfer time, ensuring load is supported by seamless flow of power from UPS if utility power is interrupted. MicroPOD(TM) allows users to manually transfer connected equipment to utility power via maintenance bypass switch, eliminating critical load shutdown during routine maintenance or replacement of UPS.
---
Original Press Release:

New Rack-Mount UPS And Maintenance Bypass Products Offer High Availability Protection


ORLANDO, December 10, 2002 - Liebert Corporation (www.liebert.com) introduced two new rack-mounted power protection products today: the 3U-sized UPStation® GXT5000R-208 and the MicroPOD (Power Output Distribution) maintenance bypass.

The UPStation® GXT5000R-208 is 208V, 5kVA UPS that delivers flexible, scalable power protection in 3U electronics and 3U-battery modules. MicroPOD allows users to manually transfer the connected equipment to utility power via a maintenance bypass switch. Both products are designed for use with rack mount process controls, industrial computers, servers, communication equipment such as hubs and routers and other high-availability switching equipment.

UPStation GXT5000R-208

The UPStation GXT5000R-208 is ideal for utility applications such as process controls, turbine controls, data systems, communication and security systems that require scalable battery run time, and high-availability protection. It is also well suited for utilities that have remote telco facilities and the popular Cisco Catalyst line of switch products. It features double conversion, on-line technology that provides a sine-wave output and zero transfer time, ensuring the critical load is supported by a seamless flow of power from the UPS if utility power is interrupted. Up to five battery modules can be daisy-chained to supply up to 74 minutes of battery runtime at full load. A single battery module combined with the UPS provides up to eight minutes of backup at full load.

The GXT5000R-208 is ideal to provide enough conditioned power and emergency back-up for expanded MCR enclosures by Liebert. These are NEMA 12 modular enclosures that can be combined to provide a controlled environment and conditioned power for sensitive electronic equipment.

"This new UPStation builds on the field-proven heritage of the Liebert UPStation GXT line and includes features like double conversion, on-line technology, user-installable SNMP communications, and a two-way bypass. In addition, Its power rating and voltage have been enhanced to meet the changing demands of networking and telecom operations," said Rich Zajkowski, Liebert UPStation GXT Product Manager.

The UPStation GXT 5000R is UL and c-UL listed and features a two-year warranty. All models include input and output noise suppression, input power factor correction PWM inverter, microprocessor-based control and monitoring package, automatic restart, RS232 and Intellislot communications port and integral dynamic bypass.

Features include:

o EMI/RFI Noise Reduction/Superior Surge Protection ­ Full-time EMI/RFI and surge filtering helps eliminate data corruption and noise-induced glitches.

o Intellislot Option Slot ­Option slot allows user-installation of SNMPWEBCARD for Ethernet SNMP communications RELAYCARD-INT for contact closure, or MULTIPORT4 option card.

o Integral Dynamic Bypass - Internal automatic and manual bypass transfers load to bypass in case of component failure or severe overload conditions.

o Wide Input Voltage ­ Extended low and high voltage and frequency conditions are corrected without switching to battery operation, reducing the number of discharges and extending battery life.

o LED Display ­ Provides annunciation of battery capacity, percentage of UPS load, battery status, bypass operation, and UPS fault condition.

o Scalable Battery Run Time ­ Additional 3U battery modules can be added to provide up to 74 minutes of backup power at full load.

MicroPOD

For process controls, computer and switching systems that can't be without power, even for scheduled maintenance, Liebert's new MicroPOD (Power Output Distribution) is now available in a 3U size.

"This product addresses the needs of our customers' high-availability operations. For those 7X24X365 applications that absolutely can not shut down, we've designed an easy-to-use, easy-to-implement maintenance bypass product," stated Rich Zajkowski, product manager.

MicroPOD features include:

o Cord-and-plug design ­ The cord-and-plug design provides an easy and efficient method of eliminating critical load shutdown during routine maintenance or replacement of Uninterruptible Power Supply (UPS) units.

o Rotary bypass ­ A rotary bypass switch provides simple and reliable operation

o Indicator lights ­ Utility and UPS indicator lights help ensure error-free usage

About Liebert Corporation

Liebert Corporation is a division of Emerson Network Power, an Emerson business which provides a full spectrum of reliable power solutions, including inbound power, connectivity, power supplies, power systems and precision cooling, backed by the largest global services organization in the power industry. These Emerson companies serve the needs of telecommunications networks, data centers, health care and industrial facilities worldwide. For more information, visit www.emersonnetworkpower.com.

About Emerson

St. Louis-based Emerson (www.gotoemerson.com) is a global leader in bringing technology and engineering together to provide innovative solutions to customers in electronics and telecommunications; process control; industrial automation; heating, ventilating and air conditioning; and appliance and tools. Sales in fiscal 2002 were $13.8 billion.

GXT 5kVA System (UPS and battery modules) street price: $3,900
Optional MicroPOD: $390
Availability: Current
Warranty: 2 year parts/labor. Extended warranties available

For more information, please contact:
Aaron Brown
Lord, Sullivan & Yoder Public Relations
614-825-1703
abrown@lsy.com

More from Sensors, Monitors & Transducers