UPM RFID and Partners to Exhibit the Latest NFC and RFID Solutions at NRF, Retail's BIG Show 2012 in New York City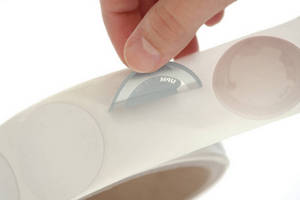 (UPM RFID, Tampere) - UPM RFID and partners are introducing the latest NFC and RFID solutions for retail industry at the National Retail Federation's (NRF) 101st Annual Convention and Expo in New York City, NY, USA. Retail's Big Show 2012 will take place at the Jacob K. Javits Convention Center on January 15-17, 2012. The NRF annually draws more than 20,000 retail professionals from over 80 countries to learn about the latest technology innovations.

UPM RFID and partners, Blue Bite, Mid-South Marking Systems, Overheer Systems and Pittsfield ID will be showcasing the most recent RFID solutions based on real-world NFC and RFID applications.

The RFID solutions at the event utilize the latest UPM RFID tag and inlay technology for digital marketing, customer engagement and experience, merchandising, item-level tagging and inventory management and much more.

UPM RFID and partners will be exhibiting at booth #2153. Visitors to the booth will have the opportunity to interact with the following demos:

o An NFC-enabled out-of-home advertising / retail display from Blue Bite, using embedded UPM BullsEye(TM) NFC inlays in posters to enable various rich media interactions for products when tapped.

o An EPC tagging solution from Mid-South Marking Systems utilizing a chip-based serialization approach to be deployed out of the box at any worldwide location. There is no need for costly integration, connectivity or third party management. The system features the UPM Belt(TM) UHF inlay and the Zebra RZ400 RFID Printer / Encoder.

o An item-level demonstration solution from Overheer Systems, using UPM RFID UHF inlays to provide retailers with improved visibility, security and location in the inventory.

o A retail marketing system, InMotion(TM) from Pittsfield ID, presenting their proprietary motion detecting RFID technology to enhance the customer experience and collect merchandising data in retail.

Also at the NRF event, UPM RFID will be presenting SMARTRAC, a leading global supplier of RFID transponders covering a comprehensive range of applications in all current frequency standards. UPM reached an agreement with SMARTRAC N.V. on 22 December 2011, whereby UPM will sell its RFID business to SMARTRAC. The deal is expected to be closed by the end of the first quarter of 2012.

Read more about the event at http://www.nrf.com/annual.

For further information, please contact:
Mr Jan Svoboda, Sales and Marketing Director, Americas, UPM RFID, tel. +1 805 312 4679
Mr Mikhail Damiani, CEO, Blue Bite, tel. + 1 866 523 3070 ext. 703
Mr Brett Wilkerson, Barcode and RFID Systems Integration, Mid-South Marking Systems, tel. +1 800 832 3170
Mr Philip Lassner, President, Overheer Systems, tel. + 1 514 386 5927
Mr Frederick Bleckmann, New Market Initiatives, Pittsfield ID, tel. +1 603 942 6030

About UPM RFID
UPM RFID, part of UPM's Engineered Materials business group, is the world's number one producer of HF, NFC and UHF radio frequency identification (RFID) tags and inlays. UPM RFID has a global service network consisting of factories in China and in the United States and a broad network of sales offices worldwide. The UPM Group employs around 24,500 people and it has production plants in 16 countries. UPM's annual sales exceed EUR 10 billion. UPM's shares are listed on the Helsinki Stock Exchange. Further information is available at www.upmrfid.com.

About Blue Bite
Blue Bite is a leading mobile-marketing solutions provider utilizing a targeted, location-based approach to reach captive audiences on their personal mobile devices via NFC. Blue Bite has partnered with many of the leading Out-of-Home Companies in the U.S. and prides itself on creating an interactive two-way medium by enabling consumers to connect with digital and traditional media via the mobile phone. For more information, please visit www.bluebite.com and www.theMTAG.com.

About Mid-South Marking Systems
Mid-South Marking Systems delivers best-in-class RFID item-level tagging solutions for retail compliance by combining its customized PortalTrack® RFID software with industry leading products from UPM RFID, Impinj and Zebra Technologies. For more than 25 years Mid-South Marking Systems has provided solutions focused on integration of Auto-ID technologies for a wide range of industries including manufacturing, retail, healthcare, pharmaceutical, government, and distribution. Leveraging expertise in barcoding and RFID technology, the company has tailored solutions for customers worldwide. More information can be found at www.midsouthmarking.com.

About Overheer Systems
Overheer Systems designs item-level RFID solutions for apparel and footwear retailers. With sales becoming more and more difficult and competition more fierce, it is critical for the retailer to secure every potential sale. The company's item-level RFID system allows the retailer to capture real time inventory information on item location and security data more accurately and quickly than traditional systems. Gain visibility into your most important asset, your inventory, by using Overheer Systems' Reflect software. For more information, please visit www.overheer.com.

About Pittsfield ID
Pittsfield ID has been working with top tier brands for over 80 years. Pittsfield ID's inMotion(TM) retail marketing system is a leading innovation in retail customer experience. InMotion(TM) detects and responds to the actual motion of products, interacting with retail customers about the product in their hands and offering useful information and brand message. Leveraging UPM RFID inlays and Pittsfield ID's motion detection technology built on a robust radio frequency software engine, inMotion(TM) delivers a naturally interactive in-store experience. InMotion(TM) is built to be intuitive and seamless to shoppers, while supplying valuable merchandising and marketing data to retailers and brand owners on product activity. More information can be found at www.pittsfieldid.com and www.inmotion-marketing.com.

More from Architectural & Civil Engineering Products