Upholstery Carpet Cleaners Generate Heat and Pressure Levels of 220 psi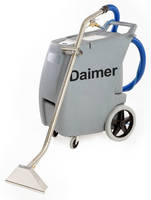 The base model XTreme Power® XPH-9300U now comes with a 220 psi pump for vehicle and upholstery cleaning.

WOBURN, MA, U.S.A. - Daimer Industries®, known for supplying auto detailing companies with equipment, has shipped beefed up versions of it its heated XTreme Power® XPH-9300U carpet cleaners. The new units generate pressure levels of 220 psi, nearly 50 percent more pump pressure than their predecessors. Customers requiring the most power can order these carpet extractors with pumps of 250 psi or 300 psi.

"Our goals were simple: increase the pump pressure and maintain fair pricing," according to Matthew Baratta, Daimer.com auto detailing spokesman. "For customers seeking carpet cleaners with heat and power in an upholstery machine, the XPH-9300U is a great option."

Heated Carpet Cleaners with Maximum Pump Power

The enhanced XPH-9300U offers large capacity tanks for extended periods of cleaning. The upholstery and carpet extractors are equipped with 15 gallon waste tanks and 17 gallon tanks for cleaning solution.

Temperature levels up to 210ºF are provided by two inline heating units that reach maximum temperatures in 3 to 5 minutes. Low moisture technology means cleaned upholstery dries in about 1 hour.

Each of the 2400 watt carpet cleaners generates 200 cubic feet/minute (CFM) of air flow. Extraction and suction are produced by tandem two-stage motors. The machines are sold with a four inch jet wand. Other size wands are sold separately.

The carpet cleaners include Daimer®'s 5 year system housing warrantee.

For additional information about the new high-powered carpet steamers, industrial floor scrubber units and other carpet cleaning machines, visit www.daimer.com/carpet-cleaner/ or call Matthew Baratta at (888) 507-2220.

About Daimer Industries, Inc.®: Daimer®, www.daimer.com, is a major supplier and worldwide exporter of the cleaning industry's leading line of KleenJet® steam cleaners/vapor steam cleaners/steam cleaning equipment; Super Max(TM) commercial and industrial pressure washers, including cold water, hot water, and steam pressure washing machines; XTreme Power® floor cleaners, including carpet cleaners, hard surface cleaners, and floor buffers/scrubbers/burnishers; and the line of Micro-Blasting® Eco-Green® environmentally friendly cleaning products that employ unique technologies and a patented, proprietary chemistry.

More from Agricultural & Farming Products