Upending Machine facilitates aligning of truck bed liner.
Press Release Summary: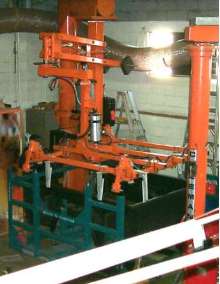 Coleman Manipulator, equipped with clamp attachment mounted on overhead bridge system, is capable of upending awkward 270 lb truck bed liner with press of button from single operator control. By taking weight off of user, machine helps reduce worker injury and allows operator to focus on positioning item.
---
Original Press Release:

Truck Bed Liner


The Problem:
Picking up and down-ending truck bed liners weighing 270lbs is a time consuming operation requiring at least 2 operators be exposed to back injury.

The Answer:
Coleman Manipulator with powered up-ending clamp attachment mounted on an overhead bridge system.

Utilizing single operator control, upending an awkward 270lb item is done with the press of a button.

The Coleman Difference:
Labor savings - One operator can do what required 2 operators in the past.

Injury exposure reduced - The machine does all the back-breaking lifting and frees the operator to focus on positioning the item, instead of using brute strength to muscle it into place.

More from Electrical Equipment & Systems