Upender-Inverter offers 250 lb capacity.
Press Release Summary: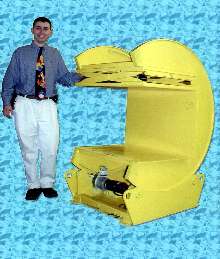 Mini-Pak-Man is available in 5 models with different size ranges. Smallest unit has 15 x 19 in. platform with opening of 16 in., while largest unit features 24 x 48 in. deck. All rotation and clamping features are electro-mechanically operated. Unit can be PLC controlled for automatic operation and can be programmed for auto-clamping and stops at 90 or 180°. Fabricated from welded steel, Mini-Pak-Man handles boxes, pallets, containers, and engine blocks.
---
Original Press Release:
New Mini-Pak-Man Upender Inverter

Air Technical Industries of Mentor, Ohio announces the development of a NEW Mini-Pak-Man box, container, or parts inverter. It's small, strong, smart and very efficient; it turns things upside down effortlessly.

The 180-degree rotation and clamping features are all electro mechanically operated, no hydraulic, no leaks. The unit can be PLC controlled for automatic operation and it can be programmed for stops at 90-degrees or 180-degrees and auto-clamping. The power source is 110 volts AC or, 12 or 24 volts DC and it comes standard with push button operated remote control.

The capacity is 250 pounds and the smallest unit has a platform size of 15"x 19" with an opening of 16", and the largest Mini-Pak-Man is 24" wide x 48" deck size. There are five standard models available in different size ranges.

The unit can be equipped with conveyors for easy loading and unloading and it can be loaded from the front or either side to be integrated into production line.

The unit has a streamlined design, and is fabricated of welded steel construction, and it is self-supported, floor mounted or it can be raised on a pedestal to a desired height for a feed through line.

The Mini-Pak-Man is an ideal tool for upending and inverting boxes, pallets, containers, manifolds, engine blocks or any unusual items that need to be turned to 90-degrees or a 180-degrees. It will improve efficiency and safety in any such operation.

For more information contact:

Vida Novak

Air Technical Industries

7501 Clover Avenue

Mentor, OH 44060

Phone: 440-951-5191

Fax: 440-953-9237

Email: ATI@aritechnical.com

Web: www.airtechnical.com
More from Transportation Industry Products