University of Texas Students Use Drylin W on a Laundry-Folding Device to Aid Children with Developmental Disabilities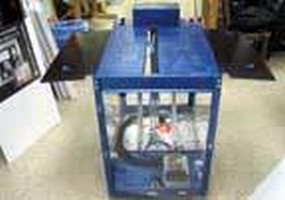 EAST PROVIDENCE, R.I. - June 27, 2006 - Igus® Inc., the leading developer of Energy Chain® cable carriers, Chainflex® continuous-flex cables and iglide® plastic bearings today announced that graduate students from the University of Texas at Austin used a DryLin® W linear guide system while designing and building a semi-automated laundry-folding device for children with developmental disabilities. The innovative idea for the project, coined FOLDS '4' U, blossomed during the group's Product Design, Development and Prototyping Class and came to fruition later in the semester when the group built the device for the Rosedale School, a local Tex. elementary school for children with different forms of disabilities.

While developing the linear drive mechanism for the laundry-folding device, the students learned that igus has donated products to the University of Texas in the past through its Y.E.S. (Young Engineers Support) Program, designed to educate engineering students about plastic technology and get its products into the hands of budding engineers. After contacting the company, the students received a free DryLin W linear guide system, which provides low-friction vertical displacement to the folding device and also secures and supports the hanger-structure load of the mechanism. With the donation, the students were able to successfully create a machine that not only aids disabled Rosedale School children with laundry folding, but also makes the process an enjoyable activity.

At the 2006 RESNA (Rehibilitation Engineering and Assistive Technology Society of North America) Conference, the University of Texas team won the Student Design Competition sponsored by the National Science Foundation for its innovative product.

DryLin W linear guide systems are low-friction, compact, resistant to both dust and dirt and an ideal choice when quiet operation is necessary. Igus' entire line of DryLin linear bearings and guide systems are corrosion-resistant, self-lubricating and maintenance-free.

About igus
Igus Inc., founded in 1985 and based in East Providence, R.I., develops and manufactures industry-leading plastic cable carriers, continuous-flex cables, plastic bearings and linear guide systems. With more than 28,000 products available from stock, the company meets the motion control and machinery component needs of customers worldwide. Product lines include Energy Chain Systems® to protect and house moving cables, Chainflex continuous-flex cables, iglide self-lubricating, oil-free, plastic bearings, DryLin linear guide systems and igubal® spherical bearings. For more information, contact igus at (800) 521-2747 or visit www.igus.com.

More from Electronic Components & Devices