Universal Signal Conditioners offer 480 switchable input settings.
Press Release Summary: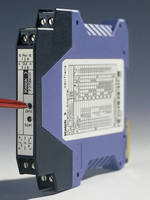 ProLine P27000 series can simplify galvanic isolation and conversion of input signals, ranging from ±20 mV to ±200 V and ±0.1 to 100 mA, across multiple measurement types within one device. Transmission speeds are as fast as T90 = 70 µsec, and onboard transformer isolation and digitally controlled range selection promote repeatable signal transmission with total gain error of 0.08%. Modular housing measures 12.5 mm wide also incorporates VariPower® power supply (20–253 V AC/DC).
---
Original Press Release:

New Knick USA ProLine Universal Signal Conditioners Offer 480 Uniquely Switchable Input Settings



Morgan Hill, California, USA – Knick USA (www.knickusa.com), an ISO9001:2008 certified global designer and manufacturer of analog signal conversion technologies for rail, power grid, industrial, marine, automotive and other environments, today introduced the North American market introduction of its ProLine P27000 series.



Common signal conditioning requirements call for the galvanic isolation and conversion of a wide range of input signals. These can typically range from ±20 mV to ±200 V and from ±0.1 mA through 100 mA. Featuring 480 uniquely switchable inputs, the Knick ProLine P27000 Series can greatly simplify these tasks across multiple measurement types within a single device, with transmission speeds as fast as T90 = 70 µs. Onboard transformer isolation and a digitally controlled range selection further provide repeatable signal transmission with a total gain error of just 0.08%. Units also offer excellent pulse formation, extremely low residual ripple, and maximum long-term measurement stability and reliability.



The compact modular housing of the Knick USA ProLine 27000 series measures just 12.5 mm wide. Pluggable screw terminals allow for simple and fast assembly and the prewiring of enclosures, with protection against touch and unintended adjustment. Housings with fixed screw terminals are also available for high mechanical loads. Design of the P27000 series also incorporates Knick USA's own VariPower®, a broad-range power supply from 20 to 253 V AC/DC, with extremely low power consumption and minimal self-heating. In addition to its "industry-best-in-class" versatility, VariPower allows the P27000 to be used all over the world with almost any type of power supply, along with continued near-perfect analog signal transmission for each input type.



The calibrated switching of input and output ranges using DIP switches eliminates complex recalibration requirements. As the switchover occurs without expensive and unreliable equipment, devices are also easily field-configurable. In addition, as both control element settings and calibrated range selections are monitored by an onboard microcontroller, signal transmission interference caused by range switch contact resistances is effectively eliminated. A 10 kHz cut-off frequency is also available for Class I, Div. 2 / Zone 2 hazardous location requirements.



For customer convenience, Knick USA offers a free software tool, VariSoft®, available for direct download from the company's website. VariSoft helps to make DIP switch input and output range settings more user friendly, by showing the correct switch position when I/O requirements are entered.  The P27000 is also accompanied by a five-year comprehensive product line warranty. For more information about the ProLine P27000 series or other products available from Knick USA, please contact the company on +1.408.840.2121, via email at info@knick-usa.com, visit www.knickusa.com.



About Knick USA:

Headquartered in Berlin, Germany, with its North American operations in Morgan Hill, California, USA, the privately held Knick has more than 50 years of industry pedigree in the design, development and manufacture of signal conversion technologies. This includes isolation amplifiers and transmitters, analyzer systems, current transducers and related accessories for industrial, rail, shipboard and marine service, power grid monitoring, and other markets. In 2011, the company further expanded its reach into North America, establishing Knick USA as a highly competent team for localized customer support.



Advertising & Editorial Inquiries:

Molly Bakewell Chamberlin

President

Embassy Global, LLC

Tel: +1.800.309.6150

inquiries@embassyglobalpr.com

More from Test & Measurement