Universal Molding Machine uses existing tooling.
Press Release Summary: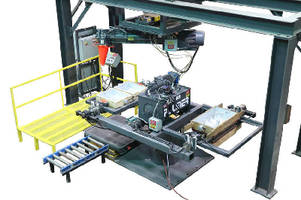 Using existing green sand or No-Bake tooling, UMM Universal Molding Machine is intended for typical jobbing foundry environment where production is variable and quantities can range from a few pieces to thousands. Machine is available in 1, 2, 4, and 6-station models with capacities from 12 x 12 4/4 to 60 x 60 36/36. Production rates up to 20 molds/hr with 2-station UMM are achieved with one operator. Up to 65 molds/hr with 6-station UMM can be achieved with 2–3 operators – all without rollover.
---
Original Press Release:

New Universal Molding Machine Uses Existing Tooling for Faster and Flexible Production



SPRINGFIELD, OH  – Palmer Manufacturing & Supply, Inc., introduced at CastExpo 2016 a Universal Molding Machine (UMM) – a revolutionary molding concept that uses either existing green sand or No-Bake tooling.



The UMM was developed in response to the typical jobbing foundry environment where production is variable and quantities can range from a few pieces to thousands.  And, tooling is often a combination of new, old, cope/drag, matchplate, green sand, No-Bake, shell, metal, wood, or plastic.



The Palmer UMM was designed to be a high production molding system that could make No-Bake molds using any tooling with minimal set-up, minimal tooling modifications, and unskilled laborers.



"The ability to accept either green sand or No-Bake tooling is an innovation that allows any modern jobbing metalcasting foundry to be flexible with their production and more efficient," said Jack Palmer, president of Palmer Manufacturing & Supply.



How it Works

The UMM tooling frames were designed to accept cope / drag No-Bake boxes where they are mounted back to back and run matchplate style, as well as any type or size of green sand tooling.



Green sand matchplates only need a simple 2x wooden box mounted to both sides and then fastened to the tooling frame, and No-Bake cope and drag boxes are simply mounted to the tooling frame  as is.



High Production Rates – NO ROLLOVER NEEDED!

Production rates up to 20 molds per hour with the 2-station UMM are easily achieved with one operator. Up to 65 molds per hour with the 6-station UMM are achieved with 2–3 operators – all without a rollover. Because the pattern is inverted automatically and drawn onto a precision scissors lift, a rollover isn't necessary and any amount of daylight is available at no additional expense.



Capacities

UMM 1, 2, 4, and 6-stations with capacities from 12x12 4/4 to 60x60 36/36 are available.



About Palmer Manufacturing & Supply, Inc.

Palmer is known globally for innovative and heavy-duty No-Bake foundry equipment including: sand mixers, molding systems, core room equipment, sand reclamation, mold handlers, pumping systems, sand conditioning, compaction tables, heaters, complete foundry systems and engineering services.   Sales, service, and support to: USA, Mexico, South America, Canada, Asia, Europe.   More info: www.palmermfg.com



More from Software