Universal Hydraulic Flaring Tool from Classic Tube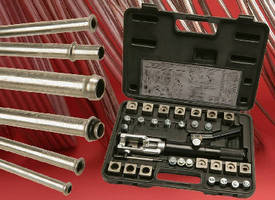 Lancaster, NY: Make flaring stainless tubing painless. This Classic Tube high-quality flaring tool is all you need for almost any stainless steel end-forming projects. Even do-it-yourselfers can create accurate, concentric flares easily! If you've found flaring stainless tubing difficult in the past you probably had the wrong tools.

This Classic Tube Universal Hydraulic Flaring Tool Kit (#7207) fabricates Single & Double Flares, Bubble Flares, Push Connect Flares, Hose Flares or GM Fuel Line Flares from 3/16 to 1/2-inch. Create flares for brake lines, fuel lines, transmission lines, vacuum, oil, coolant, hydraulic or other custom hard line applications. The tool, and all of its clamp and flare dies, are custom fitted and stored in a tough molded carrying case.

Classic Tube's tools and accessories line includes a complete selection of tube benders, tube wrenches, brake bleeders, spring wrap, fittings, brake fluid and an assortment of brake valves to give you the performance you need. Start any do-it-yourself automotive plumbing project with Classic Tube Tubing Coils and Classic Tube Straight Length Tubing, available in OE steel, stainless and aluminum. Industrial tubing applications are always available. To preview all their fluid transfer products visit www.classictube.com.

For more information on your tubing project, call toll-free in the US: 800-882-3711. Classic Tube, 80 Rotech Drive, Lancaster, NY 14086, Fax: 716-759-1014. Get your flaring project going today!


More from Transportation Industry Products