Universal Holder retrofits in-line printer system.
Press Release Summary: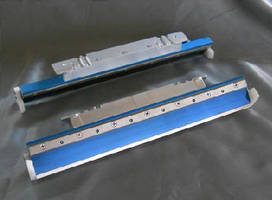 Designed for installation on Ekra Serio printing systems, PLX-EKR-U-xx-PR Permalex Universal Holder is compatible with quick install system used in in-line printer. Users who want to employ Permalex Edge metal squeegees for SMT printing may do so on this platform. Holder includes sliding paste retainers, optional spring loaded paste retainers, and long-life polymer-infused Permalex blades.
---
Original Press Release:

Universal Holder System for Ekra Serio Retrofit



Tyngsboro, Massachusetts, USA, —Transition Automation, Inc., announces the availability of Permalex Universal Holder and Blade Assemblies for installation on Ekra Serio printing systems.  The new adaptor system is compatible with the quick install system used in this in-line printer system.  User's who wish to employ the Permalex Edge metal squeegees for long life SMT printing may now do so on this platform.  The part number is:  PLX-EKR-U-xx-PR, and is in stock for immediate delivery.  These holders feature sliding paste retainers, optional spring loaded paste retainers, and long life Polymer infused Permalex blades.  



Transition Automation, Inc. is a worldwide leader in the manufacturing and distribution of Permalex® Edge Metal Squeegees, holder systems, and advanced SMT printing systems.  Founded in 1989, Transition Automation, Inc. continues to advance the state of the art in surface mount solder paste printing by innovating the critical and high-cycle squeegee component of the SMT assembly process.  The PrinTEK Series of SMT benchtop printers are renowned for their ability to produce high quality results for ultra-fine pitch SMT in high-mix production situations.



The company is located at 5 Trader Circle, Building D, Tyngsboro, Ma 01879 USA . Phone: 978-649-2400; Fax 978-649-2402, Web: www.transitionautomation.com

Related