Universal Holder/Blade Assemblies are for SMT printers.
Press Release Summary: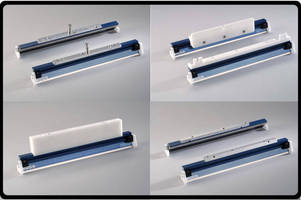 Universal holder and blade assemblies are available to be fitted into SMT printing equipment including Yamaha, Tenryu-sieki, Hitachi, Milara, Speed-Print, Samsung, Misuzu, and Minami. Holders feature lightweight design, sliding paste retainers, and flat, secure screw locking of blade. Options available include colors (red, blue, green, or silver) and squeegee angle.
---
Original Press Release:

Transition Automation Introduces an Expanded Line of Universal Holders for Popular SMT Printers



April 21, 2009

New Products expand the availability of unique holders for SMT users

Tyngsboro, Massachusetts -Transition Automation, Inc. the worldwide leader in the manufacturing and distribution of Permalex® Edge Metal Squeegees, holder systems, and advanced self-cleaning squeegee systems today announces the availability of a wider range of holder systems to fit customer SMT printers. New Universal Holder and Blade assemblies are now available to fit the following SMT printing equipment:

o Yamaha

o Tenryu-Sieki

o Hitachi

o Milara

o Speed-Print

o Samsung

o Misuzu

o Minami

Transition's Universal Holder, US Patent No: 5,887,312, gives end-users a cost effective and efficient upgrade option compared to OEM supplied holders. The unique holders feature a light-weight design, sliding paste retainers, and flat, secure screw locking of the blade. These new holders are available in stock and deliveries are normally 3-5 days A.R.O. Options available include colors (-Red, -Blue, -Green or -Silver), and Squeegee Angle.

Transition Automation, Inc., founded in 1989, continues to advance the state of the art in surface mount solder paste with innovations at the critical and high-cycle squeegee component of the SMT assembly process. The company recently relocated to 5 Trader Circle, Building D in Tyngsboro, Massachusetts 01879.

For further information or to receive a quotation, please contact by email: sales@TransitionAutomation.com, or PH: 978-649-2400, or Toll-Free (in the U.S.A. ) 800-648-3338; or via Fax at: 978-649-2491. www.transitionautomation.com

5 Trader Circle, Bldg D

Tyngsboro, MA 01879

More from Materials