Universal Communicator suits embedded applications.
Press Release Summary: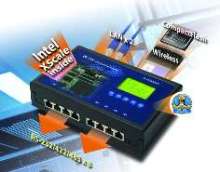 With Linux pre-installed, Series UC-7400 RISC-based communications platform features Intel Xscale IXP-422 processor operating at 266 MHz, 8 RS-232/422/485 serial ports, and dual 10/100 Mbps Ethernet ports. It uses on-board flash for storage and CF for storage expansion. JFFS2 onboard flash disk protects against system crashes caused by unexpected power failures. Fanless communicator is wireless-ready and includes 128 MB DRAM and 32 MB Flash memory.
---
Original Press Release:

Moxa Technologies Introduces UC-7400 Universal Communicator for Industrial, Embedded Applications


The UC-7400 Series of RISC-based Communication Platforms, which features 8 RS-232/422/485 serial ports, dual 10/100 Mbps Ethernet, USB 2.0, PCMCIA, CompactFlash interface for wireless communication and flash disk expansion, is designed for your embedded applications. UC-7400 comes with Linux pre-installed, giving software programmers the option of developing their own application programs or using open source code easily.

The IXP-422's RISC-based architecture and modern semiconductor technology differs markedly from the X86's CISC design, providing UC-7400 with a powerful computing engine and communication function, and the ultra low power consumption (less than 2W) CPU eliminates the need for a CPU fan or heat sink, making UC-7400 into a high performance device that won't overheat.

The two 10/100M LAN ports with built-in IXP-422 provide you with a more reliable redundant network application, and hardware encryption (DES, 3DES, AES, etc.) gives your applications better security protection and higher performance. The UC-7400 Series comes equipped with 8 RS-232/422/485 3-in-1 software configurable serial ports for various device connections, giving you an ample number of serial ports for any application, and the pre-installed Linux OS provides an open software operation system for your software program development. This means that software written for the desktop PC can be easily ported to the UC-7400 platform by using a GNU cross compiler, without needing to modify the code.

Since UC-7400 uses an on-board flash for storage and CF for storage expansion, system failures caused by a low MTBF hard drive are avoided. In addition, a Journaling Flash Flash System (JFFS2) onboard the flash disk protects against system crashes caused by unexpected power failures. And with the RISC IXP-422 CPU, which generates almost no heat, UC-7400 does not need a fan to cool down the system, providing you with a more reliable system. With UC-7420's wireless-ready design, just add the wireless PCMCIA card to make use of the wireless connection, and eliminate the complications of using wired network connections. As an added bonus, the UC-7400 Series comes with an LCM that has 160 x 64 dots with 8 rows and 16 columns, providing a user-friendly interface for onsite monitoring, configuration, and troubleshooting.

The UC-7400 Series includes two models:


Model	  Serial   LAN	  DRAM	   Flash     PCMCIA/       USB     USB

                                           CompactFlash       Hosts*   Clients*	 	   

UC-7420	 8	2	 128 MB	   32 MB     1/1	   2	      1	   

UC-7410	 8	2	 128 MB	   32 MB      0	          ---	      1

*The USB Host and Client functions are reserved for future enhancement.

Features
o Intel Xscale IXP-422 266 MHz Processor
o On-board 128 MB RAM, 32 MB Flash Disk
o Eight RS-232/422/485 serial ports
o Dual 10/100 Mbps Ethernet
o Optional PCMCIA/CompactFlash/Wireless LAN expansion
o LCM display and keypad for HMI
o Linux-Ready communication platform
o Wall mounting installation
o Robust fanless design

For more information about these and other Moxa products, please visit our website at www.moxa.com, or contact a Moxa Sales Representative by phone or e-mail.

About Moxa Technologies Co., Ltd.
With more than 17 years of experience in the development and marketing of industrial communications products, and over 5,000,000 serial ports installed around the globe, Moxa Technologies is now the No. 1 serial and serial-to-Ethernet communications product supplier in Asia, and one of the top three worldwide. Moxa's products are CE and FCC approved, and come with various interface configurations, such as ISA, PCI, Universal PCI, and PC/104, and work with all major operating systems. Moxa is committed to the continual development of new technology, high performance, and reliability, as well as a friendly user-interface, to meet customers' serial, serial-to-Ethernet, and industrial Ethernet communications needs. Moxa's vision is to be the "Total Solution for Industrial Device Networking" for all industrial data communications customers.

The MOXA Technologies logo is a registered trademark of Moxa Technologies Co., Ltd. All other trademarks mentioned in this document are the property of their respective owners.


More from Controls & Controllers