Unique Approach to Mobile Health Care for Rural Iowa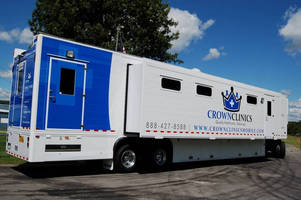 Oneonta, NY – Medical Coaches Inc. (est. 1949), a specialty vehicle manufacturer (www.medcoach.com), recently delivered a one-of-a kind health screening semi-trailer for Crown Clinics (www.crownclinicsmobile.com) in Northwest Iowa. The order was placed by Sue Brugman who is a Board-Certified Family Nurse Practitioner to help improve the accessibility of healthcare for the people in Northwest Iowa. Sue has over 35 years of nursing experience. She approached Medical Coaches in early Fall 2012 to help design a "health clinic on wheels" to assist people in her area with an innovative approach to healthcare.  She and her husband put a significant amount of their own funds towards the purchase of this custom-built coach because they wanted to provide healthcare.



The highly specialized mobile heath screening services clinic is a 53' semi-trailer with a 33' expandable wall giving the inside an additional 100 square feet of space. The mobile clinic has two exam rooms, an office/control area, an x-ray room, laboratory area, toilet, and reception room with a lift gate. Patients can receive a full multi phasic health exam and minor treatments.



The coach is intended to travel hundreds of miles throughout the State of Iowa providing accessible services to people in their hometowns or even at their job sites, for a small annual fee. The screening and treatment services include, acute illnesses, athletic, school, camp physicals, D.O.T physicals, electrocardiograms, family planning assistance, influenza vaccinations, injuries, laboratory testing, pulmonary function testing, routine x-rays, skin biopsies, cryotherapy, lesion removal and urgent care. The trailer would be available for disaster support.



About Medical Coaches:

Medical Coaches Inc. (established in 1949) is a privately held, highly specialized manufacturer of custom mobile units, ISO 9001 compliant.  They have delivered thousands of mobile units to 110 countries and all 50 States specializing in MRI, PET/CT, CT, mammography, dental, television, health screening, etc.  Medical Coaches is certified by major manufacturers such as Siemens, GE, Philips, etc. to install their equipment.



For more information about Medical Coaches' products and services visit their website, www.medcoach.com; call 607/432-1333, Ext. 125; or email csmith@medcoach.com.







More from Computer Hardware & Peripherals