Uniprocessor Server suits small businesses.
Press Release Summary: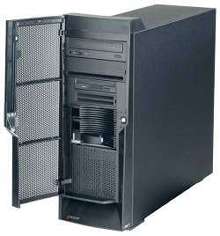 XSeries 205VL servers combine 2.0 GHz Intel Celeron processor with 128 KB L2 cache, up to 256 MB of PC2100 CL2.5 ECC double data rate SDRAM UDIMM system memory, and dual-channel ATA-100 EIDE bus mastering controllers. They include 5 full-length, 32-bit/33 MHz PCI expansion slots, two 5.25 in. bays, five 3.5 in. bays, 340 W voltage-sensing power supply, and 2 cooling fans. Alert Standard Format enables alerts to be sent remotely to system administrator and corrective action sent back.
---
Original Press Release:

IBM eserver xSeries 205VL Server - Value Leader, 2.0 GHz Intel Celeron Uniprocessor Servers


At a Glance
Attractively priced, the xSeries 205VL server delivers performance, function, and the ease of use you need to create a reliable foundation for your small business or workgroup.

o 2.0 GHz Celeron with 128 KB L2 cache
o Up to 256 MB of PC2100 CL2.5 ECC double data rate (DDR) SDRAM UDIMM system memory; 2.0 GB maximum
o Integrated dual-channel (ATA-100) EIDE bus-mastering
o Tower model with rack support through a rack conversion kit option
o Five available PCI slots
o Seven bays: two 5.25-inch, five 3.5-inch
o Bootable 48x-20x IDE CD-ROM
o 340-watt, voltage-sensing power supply and two cooling fans
o System-management support for entry server
o I/O ports:
- Two USB
- Integrated Gigabit Ethernet with RJ-45
- Two high-speed NS16550A software-compatible serial ports
- One high-speed parallel port supporting devices using SSP/EPP/ECP protocols adhering to the IEEE 1284 standard
o Integrated ATI Rage XL and 4 MB video memory

Overview
An excellent choice for the most cost-sensitive small business, xSeries® 205VL servers are easy to use and set up. These ultra-affordable uniprocessor servers are now available with Intel® Celeron® processors.

Value and Performance
o Powerful Intel Celeron microprocessors at 2.0 GHz and 128 KB L2 cache
o Up to 256 MB of PC2100 CL2.5 ECC double data rate (DDR) SDRAM UDIMM memory standard; 2.0 GB maximum
o Five full-length, 32 bit/33 MHz PCI expansion slots
o Integrated Broadcom 5702 Gigabit Ethernet controller
o Integrated dual-channel ATA-100 EIDE bus mastering controllers
o Seven total drive bays
o Attractively priced EIDE model standard with 40 GB 7200 rpm

At Your Control
Manageability and serviceability features help diagnose problems quickly.
o Alert standard format (ASF), enabling alerts to be sent remotely to the system administrator and a corrective action sent back to the client
o Automatic server restart (ASR) to restart server after operating system failure
o Monitoring of memory, thermal, or voltage faults
o Predictive Failure Analysis® (PFA) on HDDs
o Preboot eXecution Environment (PXE) and support for Wake on LAN®.
o IBM Director standard with every xSeries server

At Your Service
Valuable services, utilities, and systems-management tools help to improve productivity and get your server up and running quickly.
o IBM Director to manage xSeries 205VL servers and other LAN assets
o ServerGuide(TM) utilities to assist loading of many popular network operating systems
o One-year parts, one-year on-site labor, limited warranty; optional warranty service upgrades

Key Prerequisites
o Monitor
o EIDE HDD
o Network operating system

Planned Availability Date
July 15, 2003


More from Software