Unified Industries® UT2 Torque Tubes Provide Safe and Ergonomic Tool Positioning and Control for Assembly Applications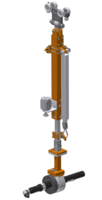 Designed to reduce operator fatigue and increase efficiency during torquing
Buffalo, N.Y., February 22, 2023 – Columbus McKinnon Corporation (Nasdaq: CMCO), a leading designer and manufacturer of intelligent motion solutions, products, and technologies for material handling, now offers a complete line of torque tubes from its Unified Industries brand designed to reduce operator fatigue and increase safety when assembling fasteners or other items that are required to be torqued. Available in pneumatic and spring balancer styles, Unified Torque Tubes are ideal for heavy industrial, automotive, or general assembly applications that require an assembler to position and operator powered torquing tools during the assembly process.
"While installing fasteners and other general assembly activities, operators frequently need to use heavy, high-power tools throughout their shift," said Bryan Holby, Sr. Global Product Manager, Powered Chain Hoists and Workstation Cranes. "Operators can use our UT2 Torque Tubes to safely and ergonomically control and maneuver torque guns and other tools, reducing fatigue and improving efficiency."
UT2 Torque Tubes allow for zero-gravity operation, eliminating the need for operators to lift, hold, position, or feel the impact of torquing. They also feature a robust and durable design that ensures smooth, reliable operation and long product life. UT2 Torque Tubes can be easily integrated into existing Unified Industries rail systems as well as non-Unified branded rail systems to create a complete tool positioning and torquing system.
Unified Industries UT2 Torque Tubes are available in capacities up to 50 lbs. while supporting a max torque of 150 lb-ft. and can be easily ordered using our smart part number system.
To learn more about UT2 Torque Tubes or our full material handling product offering, visit www.columbusmckinnon.com.
About Columbus McKinnon
Columbus McKinnon is a leading worldwide designer, manufacturer and marketer of intelligent motion solutions that moves the world forward and improves lives by efficiently and ergonomically moving, lifting, positioning, and securing materials. Key products include hoists, crane components, precision conveyor systems, rigging tools, light rail workstations and digital power and motion control systems. The Company is focused on commercial and industrial applications that require the safety and quality provided by its superior design and engineering know-how. Comprehensive information on Columbus McKinnon is available at www.columbusmckinnon.com.
Contact:
Christie Lagowski
Senior Manager, Communications
Columbus McKinnon Corporation
+1-716-861-1240
[email protected]