Miscellaneous Cleaning Equipment
Unger Excella™ Floor Cleaning System Delivers Cleaning Speed of 4,878 sq-ft per Hour
Press Release Summary: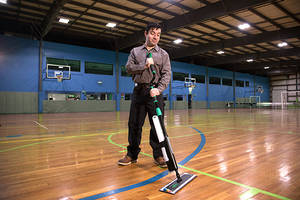 Unger Excella™ Floor Cleaning System is suitable for spot mopping, wet mopping, dusting and floor finishing applications and is offered with 0.5L bottle, 1L bottle and 5L backpack. The system comprises of dual-swivel handles and a self-guiding S-curve pole. Unit comes with height adjustable pole and on-board liquid dispensing ability.
---
Original Press Release:
Unger Releases Unger Excella™ Floor Cleaning System Proven to Clean Floors Twice as Fast
Bridgeport, Conn April 2, 2018 – Unger Enterprises is proud to announce the launch of the Unger Excella™ floor cleaning system.
Unger Excella has been independently verified to clean and seal floors twice as fast as traditional methods.
An independent study conducted by ManageMen, Inc. in January of this year concluded that the Unger Excella™ cleaned 4,878 square feet per hour, compared to just 2,564 square feet per hour with a 24oz. string mop head, nearly doubling efficiency.
The Unger Excella combines dual-swivel handles and a self-guiding S-curve pole, providing a mopping system that is "self-steering". The system is the first one available that includes a both a height adjustable pole and the ability to dispense liquid from the bottle on board. This combination of features provides dramatically faster cleaning with less strain, stress and effort than any other mop currently available.
"At Unger, our focus is making tools that get the job done faster and keep employees safer. Unger Excella has a unique design that allows users use the latest technology and cut labor time in half" offered John Lombardo, VP Global Sales and Marketing for Unger. "The patent pending elements of the Unger Excella all but eliminate strain and stress on the user and keep them moving at top speed."
The Unger Excella™ is suitable for use on all hard floor surfaces and for spot mopping, wet mopping, dusting and floor finishing applications. A .5L bottle, 1L bottle and 5L backpack allows you to scale your floor cleaning to match the environment.
For more information on the Unger Excella Floor Cleaning System, visit www.ungerglobal.com or contact 1-800- 431-2324
For press inquiries please contact:
Eileen Curran
T: 203-366-4884
About Unger Enterprises
Unger was founded in 1964 by Henry and Barbara Unger and for more than 50 years Unger has earned a reputation as a global leader in manufacturing professional cleaning and maintenance tools by developing and producing innovative, high quality, ergonomic products.
Unger has built its business by working with and listening to our business partners and end users to develop solutions that help save time and money, while obtaining superior results. This has been achieved by providing tools and accessories that work most effectively in a total cleaning care system. Unger has been recognized for their innovations globally, most recently PURUS and ISSA Innovation Award.
More from Software