Underwater Pelletizers support automated fines removal.
Press Release Summary: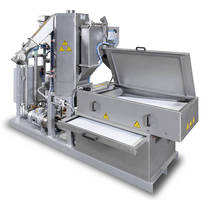 To reduce downtime and operator intervention by providing continuous, automated filtration of fines, BKG™ Master-Line™ supports optional belt filter for temperature-controlled water system. Water filtration system also has fine filter mesh (150 µm), and modularity allows interchangeability with standard equipment. Continuously rotating filter screen is constantly cleaned by spray nozzles at one end and scraper at other, allowing fines to be collected in catch basin beneath belt.
---
Original Press Release:

Belt-Filtration System for Widely Used Underwater Pelletizer Automates Removal of Fines and Improves Filtration by 25%



Optional Filtration Module Adds Capabilities to Nordson BKG™ Master-Line™ Pelletizers that Typically Are Available with Higher-Cost Systems for Compounding and Recycling



MÜNSTER, GERMANY – A new, optional belt filter for the temperature-controlled water system of Nordson BKG™ Master-Line™ underwater pelletizers reduces downtime and operator intervention by providing continuous, automated filtration of fines, it was announced today by Nordson Corp., which will display the system at NPE2015 (Booth W6263).



The new water filtration system also has a finer filter mesh—150 µm versus the 200 µm capability of the standard system available with Master-Line pelletizers. As a modular system that can be interchanged with the standard one, it opens the possibility of upgrading from the standard system on previously installed Master-Line equipment.



The continuously rotating filter screen is constantly cleaned by spray nozzles at one end and a scraper at the other, allowing fines to be collected in a catch basin beneath the belt. In the standard system, fines are collected on a large woven wire-mesh screen that periodically must be removed and cleaned, a process that requires stopping production.



The Master-Line pelletizer, widely used for compounding and recycling, is a compact, entry-level system with a throughput capability of up to 2,000 kg/hr. As with other underwater pelletizers, a water tank provides a flow of water through the pellet-cutting chamber. After being cut, the pellets are separated from this transport water in the dryer, and the water is filtered for removal of fines before it returns to the tank.



"The new belt-filter module provides users of Master-Line pelletizers with the finer-filtration and self-cleaning features available with our more elaborately equipped, higher-cost Combi-Line™ and Opti-Line™ pelletizers," said Adam Cowart, global product manager. "Until now, the only alternative for achieving 150-micron filtration with the Master-Line system was to install a secondary, stand-alone filter."



Nordson Corporation engineers, manufactures and markets differentiated products and systems used for the precision dispensing of adhesives, coatings, sealants, biomaterials, polymers,  plastics and other materials, fluid management, test and inspection, UV curing and plasma surface treatment, all supported by application expertise and direct global sales and service.  Nordson serves a wide variety of consumer non-durable, durable and technology end markets including packaging, nonwovens, electronics, medical, appliances, energy, transportation, construction, and general product assembly and finishing.  Founded in 1954 and headquartered in Westlake, Ohio, the company has operations and support offices in more than 30 countries.  Visit Nordson on the web at http://www.nordson.com, @Nordson_Corp, or www.facebook.com/nordson.



Nordson Polymer Processing Systems provides customers with engineered components to melt, homogenize, filter, meter, and give shape to plastic and fluid coating materials. Nordson Corporation leverages the collective plastics industry experience from a series of strategic acquisitions to offer a uniquely broad portfolio of industry-leading technologies.  Nordson delivers a full range of precision melt stream products — from screws and barrels for extrusion and injection molding — to filtration systems, pumps, and valves — to the extrusion dies and pelletizing systems to meet the constantly evolving needs of the polymer industry.



Nordson Corporation provides customers with local technical sales, service and remanufacturing capabilities through sales organizations and regional manufacturing facilities in over 30 countries.  To learn more visit us at http://www.nordsonpolymerprocessing.com.



Robert J. Martino

Martino Communications Inc.

8 Main Street / P.O. Box 379

Hastings-on-Hudson, NY 10706 U.S.A.

Tel: 1-914-478-0754

Email: bob@martinocommunications.com

www.martinocommunications.com

www.twitter.com/MartinoComms

More from Thermal & Heating Equipment