Un-cooled Thermal Weapons Sight weighs less than 1 kg.
Press Release Summary: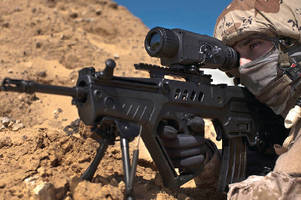 Using microbolometer technology, NOA NYX offers precise target detection and engagement in dust, smoke, and complete darkness. Sight can be used as handheld observation device or fitted to light machine guns, assault rifles, and submachine guns using MIL-STD-1913 rail system. Long-range capability also makes it suitable for sharpshooter rifles with x2 and x4 digital zoom, to detect man-sized targets at up to 900 m. Video output can be fed to remote screen and/or recording equipment.
---
Original Press Release:

Meprolight Announces the NOA NYX, a Lightweight, Un-Cooled Thermal Weapons Sight



DSEi, Meprolight, an international electro optics provider for military, law enforcement and civilian markets, is launching its NOA NYX, a lightweight, un-cooled thermal weapons sight, weighing less than 1kg. Created to address the issues of precise target detection and engagement in dust, smoke, and complete darkness, the NOA NYX uses proven high-resolution microbolometer technology, to ensure clear and consistent results. The NOA NYX Thermal Sight is introduced at DSEI 2011, September 13-16 2011 in London (Booth no. S9-165).

The NOA NYX can be used as a hand held observation device or fitted to light machine guns, assault rifles and submachine guns, using the MIL-STD-1913 rail system. The system's long-range capability and light weight also make it suitable for sharpshooter rifles with a x2 and x4 digital zoom, having the ability to detect man sized targets at ranges up to 900m. The NOA NYX can store up to 3 user configured sighting reticules.
Using 4 AA batteries allowing for up to 7 hours continuous operation, the NOA NYX can be quickly brought into action with a warm up time of less than 5 seconds.

Additionally, the system has a "video out" feed enabling the output to be fed to a remote screen and/or recording equipment.

"The NOA NYX is another addition to the NOA line of thermal weapon sights," said Golan Kalimi, Meprolights' VP for Marketing. "Our thermal imagers incorporate the knowledge from the field with the technical abilities of Meprolight to ensure that infantry, Special Forces and other dismounted operators get the most capability from the least weight and greatest strength."

The NOA NYX is a durable, lightweight TI system with low life-cycle costs, while maintaining operationally proven capabilities, built on Meprolight's unique expertise, technology and a deep understanding of user requirements.

ABOUT MEPROLIGHT

Meprolight is an International Electro-Optics company, developing, manufacturing and marketing systems for infantry, armed forces, law enforcement agencies and civilian markets since 1990. Meprolight provides comprehensive solutions with a wide array of combat-proven products; electro-optical and optical sights and devices, night vision devices, thermal sights and a wide variety of tritium and LED illuminated products and accessories for safety and security applications.

All of Meprolight's products are designed and produced to the highest quality standards. The products are fully certified to ISO-9001:2008, complying with NATO and US military specifications and International MIL Standards.

On June 2010, Pulse Inteco Systems joined the SK group as a partner of Meprolight to further position the group as a leading provider of sophisticated and comprehensive electro-optical solutions for infantry and armed forces.

For more information please visit our website at: www.meprolight.com

More from Test & Measurement