Ultrastar Hs14 Enterprise Hard Drives feature SMR technology.
Press Release Summary: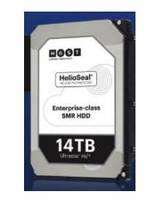 Ultrastar Hs14 Enterprise Hard Drives are suitable for cloud and hyperscale data center applications. Units use fourth-generation helium filled drive technology and come with 5 year limited warranty. Products are offered in a capacity of 14 TB.
---
Original Press Release:
WW Historical Record Capacity for HDD: 14TB, by Western Digital/HGST
With host-managed SMR and helium
Western Digital Corp. is providing cloud and hyperscale data centers the capacity required by big data applications with the world's first 14TB enterprise HDD featuring host-managed shingled magnetic recording technology (SMR).
Western Digital's HGST-branded Ultrastar Hs14 delivers 40% more capacity and more than twice the sequential write performance of its SMR predecessor, enabling more economical and efficient capture of the growing volume and variety of data.
The future is built on the insights and predictive power of big data. As data grows, storing it all in an affordable and accessible manner is an ongoing challenge for enterprise and cloud service data center operators. With a focus on TCO, the factors of capacity per rack, power consumption, cooling, maintenance, and acquisition cost are all paramount. To combat the big data challenge, Ultrastar Hs14 drives deliver capacity leadership and online watt/TB power efficiency for low TCO by harnessing two core complementary technologies - fourth generation HelioSeal technology, and second generation host-managed SMR - along with enterprise reliability. These mature technologies provide the foundation for delivering efficient, quality and reliable performance required by cloud and hyperscale environments, for ultra-dense scale-out storage systems running sequential write workloads. By utilizing SMR technology, Ultrastar Hs14 HDDs offer a 16% increase in capacity while keeping highly predictable, highly reliable performance.
"Over 70% of the exabytes Western Digital ships into the capacity enterprise segment are on helium-based high-capacity drives and continue to support customers with outstanding reliability, performance and value QoS," said Mark Grace, SVP of devices, Western Digital. "The TCO and reliability benefits of our HelioSeal platform are the foundation of our leadership in high-capacity enterprise storage."
Ultrastar Hs14 14TB Enterprise Drive Features and Specifications:
HelioSeal Technology: Fourth-generation helium filled drive technology brings the highest capacity HDD to market sooner than competing offerings.
Host-managed SMR Technology: Second-generation enterprise storage deployment of host-managed SMR delivers 14TB with no compromise of performance predictability and consistency. Host-managed SMR HDDs are designed specifically for sequential write environments, and will not work as drop-in replacements for traditional capacity enterprise drives.
Reliability: MTBF rating at 2.5 million hours.
Warranty: 5-year limited
Availability: sampling to select OEMs
More from Agricultural & Farming Products