Ultrasonic Washers use full-wave ceramically enhanced transducers.
Press Release Summary: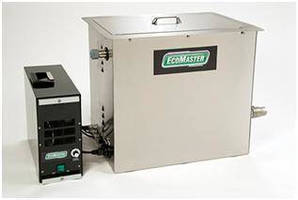 Designed to handle small to medium sized parts, EcoMaster EM100US (100 W, 1 gal tank), EcoMaster EM325US (200 W, 3.25 gal), and EcoMaster® EM700US (300 W, 7 gal) are tabletop models featuring chemical- and crack-resistant, stainless steel enclosure. For larger parts, benchtop models Ecomaster EM1200US (11.3 gal) and EcoMaster EM2200US (22 gal) feature 1,000 W external ultrasonic generator with variable amplitude output, sweep frequency of 40 kHz, and flow control valve for drainage.
---
Original Press Release:

New EcoMaster® Ultrasonic Part Washers Available from Fountain Industries, LLC Offer Superior Performance and Reliability



Minneapolis, Minnesota – Fountain Industries full line of EcoMaster Ultrasonic part washers offer superior performance and reliability for fast and effective part washing. Ultrasonic cleaning is the most effective solution for removing hard substances from intricate and delicate parts. Operators in industrial, automotive aftermarket, vehicle repair and service facilities can benefit from the proven reliability and performance of ultrasonic part washers.



Fountain Industries line of EcoMaster Ultrasonic part washers offer unique design features that allow them to out perform traditional ultrasonic part washers. Their unique full-wave ceramically enhanced transducers offer superior performance, when compared to conventional wafer-type versions.



EcoMaster Tabletop Ultrasonic Parts Washer

Fountain Industries offers three table top ultrasonic part washers for small to medium sized parts, the EcoMaster EM100US - 100 watt - 1 gallon tank, the EcoMaster EM325US - 200 watts -3.25 gallon tank, and the EcoMaster EM700US - 300 watt - 7 gallon tank. The stainless steel enclosure is chemical and crack resistant. Units feature a main on/off switch, analog timer and adjustable thermostatically controlled heater (ambient to 80°C), 3/16" stainless steel basket and cover, and ceramically enhanced transducers.



EcoMaster Benchtop Ultrasonic Parts Washer

Fountain Industries offers two bench top ultrasonic part washers for larger parts, the Ecomaster EM1200US - 1000 watt - 11.3 gallon tank, and the EcoMaster EM2200US - 1000 watt - 22 gallon tank. Both units feature a 1,000-watt external ultrasonic generator with variable amplitude output, an analog timer and adjustable thermostatically controlled heater (ambient to 80°C), 3/16" stainless steel basket and cover, ceramically enhanced transducers, sweep frequency of 40 kHz, and a flow control valve for drainage.



Want more information? Call 800-328-3594. Fountain Industries, 922 East 14th Street, Albert Lea, Minnesota 56007.  Local: 507-373-2351 Fax: 507-373-7404.  Website: www.fountainindustries.com

More from Optics & Photonics