Ultrasonic Flowmeter measures high-purity fluids.
Press Release Summary: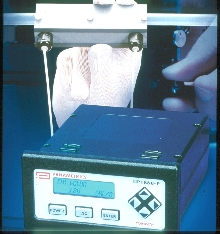 UPT868 flowmeter uses tilted-diameter or guided mode clamp-on transducers to measure sterile or ultrapure liquids. Tilted-dia transducer works well on small, metal pipes and tubes. Guided mode transducer works in small, plastic tubes. Both have all plastic construction, suitable for harsh, highly corrosive environments. Typical applications include deionized water, dilute chemical solutions, beverage slurries, and CMP slurries.
---
Original Press Release:
New UPT868 Ultrasonic Flowmeter Accurately Measures High-Purity Flows

The UPT868 flowmeter system is another technology breakthrough from Panametrics. Using either traditional tilted-diameter or new, patented Guided Mode clamp-on transducers, the UPT868 provides nonintrusive flow measurement of sterile or ultrapure liquids in pharmaceutical, food and beverage, specialty chemical and semiconductor manufacturing industries. Typical applications include deionized (DI) water, dilute chemical solutions, beverage slurries, and CMP (chemical/mechanical planarization) slurries.

Two transducer types are available. The first is the traditional, tilted-diameter, high-frequency, ultrasonic transducer, which works well on small, metal pipes and tubes. This transducer design, however, isn't optimal for use on low-density plastic tubing, such as PFA, since plastics absorb high-frequency ultra- sound. Panametrics overcame this obstacle by developing a new, low-frequency, Guided Mode transducer. Its low-frequency signals penetrate the PFA tube wall, simulating a waveguide in the small-diameter tubing.

This new transducer design provides superior transit-time flow measurement for small, plastic tubes. Both types of transducers feature all plastic construction, which makes them ideally suited for the harsh, highly corrosive environments found in many applications.

The UPT868 is available in both a panel-mount package and a blind card-type package. The panel package includes an integral display and keyboard. This makes it easy to install and use when retrofitting processes by replacing maintenance-intensive and problematic paddle-wheel, vortex shedding, or magnetic flowmeters. Set up of the blind card-type package is accomplished via Panametrics' IDM software and a PC connected to the UPT868 via an RS232 communications cable. This version is ideal for OEM applications that integrate the flowmeter into skid-mount or cabinet-enclosed products, and when only a simple 4- to 20-mA output is desired to integrate the flowmeter into the control system.

The UPT868 is optimized to provide an extremely fast update cycle, making the meter ideal for high-speed batching applications or the pulsating flows that are common to diaphragm or bellows pumps. Flow rates as low as 3 gal/h in tubes as small as 3/8 inch (9.5 mm) can be measured with excellent accuracy and repeatability.

One of the most important aspects of the UPT868 system is that the meter uses clamp-on transducers, which provide a straight-through flow path when clamped onto existing tubing. This installation completely eliminates contamination accumulation points, while maintaining 100% sealed integrity. In addition, clamping transducers onto an existing tube allows installation in tight locations without shutting down the process. It also eliminates welding and other costs associated with installing in-line paddlewheel, differential-pressure, or vortex flowmeters, which typically exceed $500 per point.

More from Controls & Controllers