Ultrasonic Cleaning Systems handle 600-1,800 parts per hour.
Press Release Summary: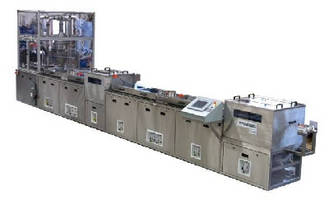 Utilizing combination of spray, immersion, and ultrasonic technologies, CleanVeyor CLV-8, CLV-16, and CLV-24 come with 1-lane, 2-lane, and 3-lane conveyors, respectively. Spray wash uses rotating brush module to remove gross levels of contamination. After scouring external surfaces of parts, second process uses ultrasonic technology with cavitation effect in immersion environment. Systems are suitable for parts with complex and internal geometries that need final cleaning prior to assembly.
---
Original Press Release:

Cleaning Technologies Group, LLC Introduces the CleanVeyor Ultrasonic Cleaning System



Cleaning Technologies Group, LLC, a world leader in providing cleaning and waste minimization technologies, is proud to introduce the new CleanVeyor Ultrasonic Cleaning System.



Blackstone-NEY CleanVeyor Ultrasonic parts washer utilizes a combination of spray, immersion, and ultrasonic cleaning technologies and has proven successful in achieving Six Sigma consistency in a number of applications requiring high production outputs and tight cleanliness levels. Parts with complex and internal geometries that need final cleaning prior to assembly are ideal candidates. This cleaning process has proven to significantly reduce or eliminate warranty related failures that would be attributed to inadequate part cleaning. The Cleanveyor is modular so that more stages can be added as needed. 



The first process in this powerful combination is a spray wash using a rotating brush module to quickly remove gross levels of contamination from parts. Higher pressures can be used to remove greater amounts of debris; however, the limitation of spray technology is that "line of sight" is required to be fully effective.



After scouring the external surfaces of the parts, the second process uses ultrasonic technology and is done in an immersion environment. The mechanical cleaning component of ultrasonics is the cavitation effect. Among nature's most dramatic amplifiers of energy density, cavitation generates extreme local temperatures and pressures. The Cleanveyor can reduce chemical usage as much as five times



The CleanVeyor is available in three models, the CLV -8, CLV-16 and the CLV-24 and has a parts capacity from 600 to 1800 per hour.  The CLV-8 comes standard with a single lane conveyor, and the CLV-16 has a two lane and the CLV-25 has a three lane. 



For more information about Cleaning Technologies Group, please visit: http://www.ctgclean.com.



Cleaning Technologies Group, LLC is a world leader in providing innovative cleaning and waste minimization technologies to precision and industrial manufacturing markets.  CTG is comprised of Ransohoff located in Cincinnati, Ohio, Blackstone~NEY Ultrasonics located in Jamestown, New York, and CTG Asia located in Suzhou, China. The Group is the premier provider of high technology, environmentally friendly parts-cleaning and waste-minimization equipment and services to the global marketplace. CTG LLC is a wholly owned subsidiary of NM Group Global, LLC. 



NM Group Global LLC is a holding company for a growing group of manufacturing firms with a global reach for sourcing and marketing. Founded in 2002 with the purchase of National Machinery LLC, the original holding company, and world leader in the development and manufacture of cold forming machines, process technology, and aftermarket services. National Machinery, founded in 1874, is headquartered in Tiffin, Ohio with service centers and sales offices throughout the world.



Contact Information:



For Cleaning Technologies Group Asia- Suzhou, China

Enlin Zheng (Ned)

56 Songshan Road, Suzhou New District

Jiangsu Province, China PRC: 215151

(86) 0512-66161698

1362-529-1244

elzheng@ctgclean.cn

Visit our website at www.ctgclean.cn



For Cleaning Technologies Group, LLC:

Chris Whittaker

4933 Provident Drive

Cincinnati, OH  45246

(800) 248-9274

(513) 870-1787

cwhittaker@ctgclean.com

Visit our website at www.ctgclean.com

More from Architectural & Civil Engineering Products