Ultrasonic Bolt Meter provides measurement stability.
Press Release Summary: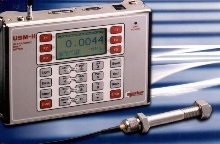 USM-2 Ultrasonic Bolt Meter with operating software v1.6 provides precise measurement of elongation and load in threaded fasteners from 1 in. to 50 ft long made of any metal material. Field-portable unit features onboard flash memory that stores up to 5 elongation and load measurements for each bolt to verify multiple pass tightening procedures. Integral data recorder stores bolt information and makes it available for download through RS232 port.
---
Original Press Release:

Version 1.6 of Norbar USM-2 Software Improves Measurement Stability


Orange City, FL - Norbar U.S.A. announces Version 1.6 of its operating software for the USM-2 Ultrasonic Bolt Meter. This software release is the result of extended testing of USM-2 by NASA and NASA contractors for use on ultra-critical bolts in the Space Shuttle Main Engine (SSME). Version 1.6 of Norbar's software is different from previous USM-2 software versions in that it focuses on eliminating or reducing minor measurement fluctuations that might have previously occurred with the technology. Its result is greater measurement stability, repeatability and accuracy, unrivaled by any competitive product.

Norbar's USM-2 Ultrasonic Bolt Meter provides precise measurement of elongation and load in threaded fasteners. It is a compact, lightweight, field-portable unit for real-time bolt measurement on fasteners of virtually any metal material, from 1 inch to over 50 feet long. To operate, a small transducer is placed against the head or stud end of a fastener, which introduce an ultrasonic sound wave that travels the length of the bolt. When the sound wave returns, the microprocessor converts the transit time to a length using constants based on the bolt material.

Accuracy is as high as that with strain gages. Onboard flash memory stores up to five elongation and load measurements for each bolt to verify multiple pass tightening procedures. An integral data recorder stores bolt information in the USM-2 and makes it available for download through an RS 232 port. The backlit LCD displays both data and waveform. Sonic Bolt (Windows® 95/98/ME/XT/NT/2000 compatible) utility software handles bolt data uploads, downloads, theoretical load to stretch calculations and provides Excel® formatted reports.

For further information, contact:
Norbar U.S.A. Incorporated
36400 Biltmore Place
Willoughby, OH 44094
Phone Toll Free: 877-566-7227
FAX: 386-774-5648
WEBSITE: www.norbar.info

More from Optics & Photonics