Ultraray's Hot cell features telemanipulator arms for remote tasking
Press Release Summary: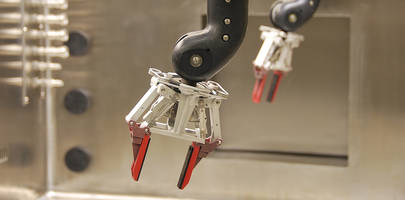 Providing custom shielding on all sides, Ultraray's Hot cell offers in-cell services like high intensity lighting and specialized ventilation. Designed with several ports and doors, unit allows full access for loading equipment and radioactive source terms. Featuring large size, glass viewing window and radiation stability, product gives clear view to all in cell equipment.
---
Original Press Release:
Ultraray Group Announces "Hot Cell" for Nuclear Power Industry
Ultraray Group is pleased to announce the completion of a custom-manufactured hot cell to be used to support the nuclear power industry. We worked closely with our client to determine their precise requirements and then designed the hot cell to these specifications. Leaving no detail to chance, Ultraray built a wooden model of the hot cell based on conceptual drawings. This gave the client the opportunity to experience firsthand the look and feel of their hot cell.
The inside dimensions of the hot cell have been optimized to meet the clients material handling needs, with custom shielding on all sides. To remotely perform tasks within the cell, the client uses telemanipulator arms that have been tailored to their application. In addition to in-cell services such as high intensity lighting and specialized ventilation, the hot cell includes several ports and doors to enable full access for loading equipment and radioactive source terms. But, perhaps the most significant feature is a large, radiation stabilized, leaded glass viewing window, made specifically for this project. The window provides a clear view to all in-cell equipment while providing the same level of radiation protection as the shielding used in the cell walls.
When it came to delivery, the location and size of the hot cell room presented numerous logistical, manufacturing, and installation challenges. The only way to transport heavy equipment to the room was through a hatch using an electric chain hoist, making it impossible to build the hot cell at our plant. Instead, the cell was predominantly manufactured and assembled on site. All welding, stainless steel cladding, installation of Swagelock airlines, and painting was done in the hot cell room at the client's facility. Ultraray incorporated a system of interlocking lead bricks – machined in-house and carefully catalogued, then installed on site – to provide the necessary radiation shielding.
Ultraray is honoured to have been given the opportunity to design, manufacture, and install this unique hot cell project. We look forward to working with the client to provide their next radiation shielding solution.
Our client stated, "We are very pleased with the product, the build quality, and attention to detail provided by the Ultraray."
Ultraray, provides radiation shielding solutions and supplies for Hospital and Clinic Construction, Industrial NDT, Power Generation, Security and Defense, Aerospace and Nuclear Industries.
The Ultraray Group
760 Pacific Rd, Unit 3,
Oakville, ON, Canada L6L 6M5
Toll-free: 1.877.338.6857
More from Communication Systems & Equipment