Ultra-Trace Moisture Analyzers deliver sub-ppb readings.
Press Release Summary: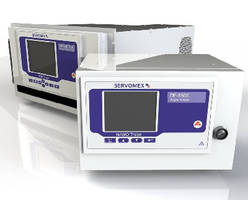 Utilizing Hummingbird Tunable Laser Diode sensing technology, DF-700 Series is optimized for semiconductor, LED, and specialty gas applications that depend on ultra high purity gas quality. Direct measurement of moisture in infrared spectrum enables analyzers to distinguish most minuscule sample peaks. Firmware ensures low-end stability, while graphical menu interface gives user confidence that system is performing to exacting standards.
---
Original Press Release:

Servomex Upgrades DF-700 Moisture Analysis for 2015



Crowborough, UK – Servomex, the world leader in gas analysis, has updated its DF-700 ultra-trace moisture analyzer range with new firmware and an improved user interface.



Optimized for semiconductor, LED and specialty gas applications that depend on exceptional ultra high purity (UHP) gas quality, Servomex DF-700 moisture analyzers offer exceptional accurate and repeatable performance as well as proven reliability, affordability and ease of use.



The DF-700 series utilizes Servomex's Hummingbird Tunable Laser Diode (TDL) sensing technology, which delivers robust reliability and industry-leading sensitivity when analyzing moisture at ultra-trace levels. The ultra-sensitive measurement is enabled by the direct measurement of moisture in the infrared spectrum. This means DF-700 analyzers can distinguish the most minuscule sample peaks, delivering sub-ppb moisture level readings while requiring low maintenance and low calibration.



This exceptional measurement is further improved by brand new firmware that ensures exceptional low-end stability. Specially designed to eliminate the spurious effects of background noise at very low ppb levels, the resultant performance produces a stable measurement that meets the most demanding requirements of semiconductor manufacturers.



In addition, a new graphical menu interface has been designed to give additional confidence to the end user that the system is performing to exacting standards and at peak performance.  All of the performance and graphical user interface improvements are incorporated into a smart new housing.



Seven different models are available: the DF-730 (measuring moisture in HCl), DF-740 (moisture in ammonia) DF-745 (high sensitivity electronic gases) and DF-745 SGMax (specialty gas trace moisture), DF-749 (ultra-high purity electronic gases) and DF-750 (ultra-trace quality control for semiconductor fabs). The DF-760E combines the DF-750 and the recently upgraded DF-560E analyzer into a the same 19" package for the unique combination of oxygen and moisture measurement from a single product; the new firmware not only improve trace moisture analysis performance but delivers an unprecedented trace oxygen measurement of 45ppt LDL  - the lowest trace oxygen measurement available.



"The DF-700 range has been providing sub-ppb moisture measurements for nearly 20 years.  The improvements made in 2015 will give even the most discerning customer the confidence they require that they are getting the most stable and accurate UHP moisture measurements on the market," says Jim Belanger, Global Product Manager" Trace Products, Servomex.



"The improved low-end stability DF-700 products now give our customers even more measurement certainty, enabling to run their applications with unprecedented confidence."



For more information, visit www.servomex.com



Servomex Group Ltd

An acknowledged innovator in gas analysis technologies for more than 60 years, Servomex is the originator of and world leader in paramagnetic sensing technology and has an exceptional reputation in the development of zirconia, photometric and thick film technologies. The result is high-performance, cost-effective gas analysis, delivered through a portfolio of dependable products ranging from portable gas analysers to complex process solutions.



Servomex has extensive experience of working with multi-national companies across a range of industries including hydrocarbon processing, industrial gas and OEM markets, ensuring our knowledge and expertise closely matches the requirements of our customers. Servomex's commitment to providing a complete industry solution to gas analysis extends across our business, with our Hummingbird Sensing Technology brand delivering our technology to OEM partners and the recently-acquired Delta F Corporation extending our product offering through oxygen and moisture analysis technologies.



Servomex is part of Spectris plc, a leading supplier of instrumentation and controls to global markets.

More from Material Handling & Storage