Ultra-Miniature Tactile Switch features IP57 sealing,.
Press Release Summary: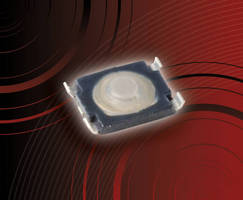 Offering lifespan of greater than 300,000 electrical and mechanical cycles, KMT0 ultra-miniature tactile switch with IP57 rating protects against water and sweat in nomad devices. RoHS compliant and halogen free switch measures just 2.6 x 3.0 x. 0.65 mm, with body height of 0.45 mm and actuator height of 0.2 mm. SPST NO switches are constructed with silver plating and are available with 4 operating forces; 1.0, 1.6, 2.3, and 3.4 N. Operating temperature range is from -40 to +85°C.
---
Original Press Release:

C&K Develops Ultra-Miniature Tactile Switch with Extended Life Cycles, IP Sealing



Tact switch with IP57 rating protects against water and sweat in nomad devices...

NEWTON, MA - C&K Components, a leading international supplier of tact switches, toggle, rocker and pushbutton switches, and smart card interconnect devices, has expanded its KMT Series of ultra-miniature tactile switches. The new KMT0 ultra-miniature tactile switch features a life span of more than 300,000 electrical and mechanical cycles, and is sealed to IP57 specifications.

"The ultra-miniature size provides an ideal solution for applications with an extremely small footprint, while the IP sealing is an excellent solution to protecting against sweat and water in nomad devices," said Jerome Smolinski, senior product manager for C&K Components. "With these design features as well as the extended life cycles, the KMT0 ultra-miniature switches are the ideal solution for a number of consumer electronics and medical devices, including hearing aids, mobile phones, MP3 accessories and Bluetooth headsets."

The RoHS-compliant and halogen free ultra-miniature KMT0 switches measure just 2.6 x 3.0 x. 0.65mm, with a body height of 0.45mm. The SPST NO switches are constructed with silver plating and are available with four operating forces: 1.0N, 1.6N, 2.3N and 3.4N. Maximum overload is 30N.

Actuator height is 0.2mm, and the integrated actuator allows for simpler button design while yielding an excellent tactile ratio of up to 30%, providing sharp feedback (low tactile ratio of 10% is available for hearing aids and headsets). Operating temperature ranges from -40°C to +85°C.

About C&K Components

C&K Components is a division of CoActive Technologies, a privately held company manufacturing electromechanical switches, interface controls, keypads, dome arrays and modules. www.ck-components.com