Ultra-Low Noise Amplifiers cover microwave frequency bands.
Press Release Summary: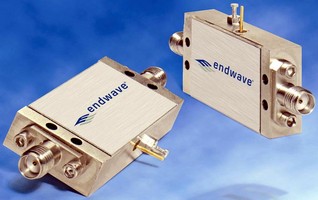 Offered in 20+ models, ultra-low noise JCA Amplifiers can be employed in narrowband situations, such as GPS receiver, or in electronic surveillance system where several octaves of bandwidth may be necessary. Narrowband models can be optimized for sub 0.5 dB noise figures over 100-200 MHz sub-bands, and broadband multi-octave noise figure performance is rated under 1 dB max for C-Band frequencies and below. Design minimizes touch-and-tune time.
---
Original Press Release:

Endwave Announces Ultra-Low Noise JCA Amplifiers



SUNNYVALE, CA--Endwave Defense Systems, a manufacturer of RF subsystems and components for defense and homeland security applications, has announced the release of a new line of ultra-low noise JCA Amplifiers". With over twenty new models available to cover many of the popular microwave frequency bands, narrowband models can be optimized for sub 0.5 dB noise figures over 100-200 MHz sub-bands, with broadband multi-octave noise figure performance under 1 dB maximum for C-Band frequencies and below. Higher-frequency models are available upon request.

The engineering strategy to achieve this performance utilizes Endwave's JCA brand amplifier building-blocks and incorporates proprietary matching techniques. In addition to low noise characteristics, cost efficiencies have also been achieved due to minimal touch-and-tune time. The engineering approach also results in a variety of end-use advantages. They can be employed in either narrowband situations, such as a GPS receiver, or in an electronic surveillance system, where several octaves of bandwidth may be necessary. As a result of their flexibility and ultra-low noise performance and reliability, they are useful when system engineers are looking to improve radar sensitivity, increase dynamic range, and lower reception thresholds.

For more information on Endwave Defense Systems' ultra-low noise amplifiers, call an applications specialist at 408-522-3180.

About Endwave
Endwave Corporation designs, manufactures, and markets RF modules that enable the transmission, reception and processing of high-frequency signals in wireless telecommunications networks, defense electronics and homeland security systems. Endwave Defense Systems, an operating division of Endwave, specializes in the unique requirements of defense, homeland security, and other government end-use applications. The Company's RF modules consist of microwave components and subsystems, including integrated transceivers, JCA Amplifiers, frequency multipliers, up and down converters, oscillators, synthesizers, microwave switch arrays, and other custom multi-function assemblies (MFAs). Endwave has 39 issued patents covering its core technologies including semiconductor and proprietary circuit designs. Corporate headquarters are located in Sunnyvale, CA, with other operations in Diamond Springs, CA; Andover, MA; and Chiang Mai, Thailand.

www.endwave.com

Company Contact:
Mark Hebeisen
Vice President
Marketing & Business Development
978-686-4400, x105

More from Test & Measurement