Ultra-LDO Linear Regulators suit high-current POL conversion.
Press Release Summary: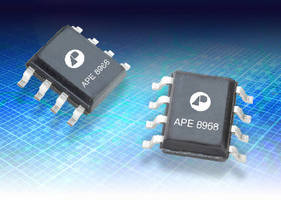 Designed to provide POL DC-DC conversion in board-level applications, Series APE8968MP-HF3 provides dropout of just 0.23 V at 3 A. Units require 2 supply voltages, one for control circuitry and another for main supply. Power-On-Reset circuit monitors both supply voltages to prevent incorrect operation. Available in ESOP-8 package, regulators include thermal shutdown and current limit protection, as well as POK that indicates output status with time delay that is set internally.
---
Original Press Release:

New 3A Ultra-Low Dropout Linear Regulator from Advanced Power Electronics Corp



Suits high-current POL conversion on board-level applications, including motherboards, notebooks



San Jose, Ca…Advanced Power Electronics Corp. (USA), a leading Taiwanese manufacturer of MOS power semiconductors for DC-DC power conversion applications, has introduced the APE8968MP-HF3, a new series of 3A, ultra-low dropout linear regulators designed to provide simple POL DC-DC conversion in board-level applications, including motherboard and notebook applications. Requiring two supply voltages – one for the control circuitry and the other for the main supply – the IC reduces power consumption and provides a dropout of just 0.23V (typ) at 3A.



APE8968MP-HF3 integrates many functions, and has a Power-On-Reset (POR) circuit to monitor both supply voltages to prevent incorrect operation. Thermal shutdown and current limit protection features are included, and a POK indicates output status with a time delay which is set internally. The APE8968MP-HF3 can control another converter for power sequencing, and can also be controlled by another power system. Pulling and holding the EN pin below 0.4V shuts off the output.



Comments Ralph Waggitt, President/CEO, Advanced Power Electronics Corp. (USA): "The APE8968MP-HF3 provides very fast transient response. Low cost multilayer ceramic chip capacitors can be used on the output since ESR is low, and output voltages can be adjusted by simple use of external resistors."



The APE8968MP-HF3 is available in the ESOP-8 package, which is the same small size as an SO-8 device, but with an exposed pad to reduce the junction-to-case thermal resistance, making it suitable for 2-3W applications.



For more information, the datasheet can be downloaded at http://www.a-powerusa.com/docs/APE8968-3.pdf. Devices are also in stock at distributor, Premier Farnell, following a worldwide franchise agreement between the two companies.



About Advanced Power Electronics Corp.

Established in Taiwan in 1998, Advanced Power Electronics Corporation (APEC) has become a leading supplier of MOS power discretes, IGBTs and Power ICs which enable cost-effective efficient solutions for new and existing power applications. The company's wide range of solutions broadly targets the computing, consumer electronics, display, communications and industrial segments. ISO-approved, Advanced Power Electronics Corp. (USA)'s commitment to consistent quality assurance and the increased economies of scale has seen the company increase in revenue - and trade profitably each year since its foundation - and it has been ranked as one of the world's top fifteen power transistor suppliers by iSuppli.



For further information:

Ralph Waggitt,

President/CEO, Advanced Power Electronics Corp. (USA),

Tel: +1 408-717-4231

Email: rwaggitt@a-powerusa.com

http://www.a-powerusa.com

More from Electrical Equipment & Systems