Ultra-Compact Terminal Block Approved for Larger Conductors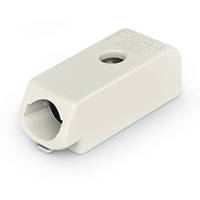 Germantown, WI – WAGO's universal surface mount PCB solution – the 2059, is now approved for 20 AWG/0.5 mm² conductors. 2059 terminal blocks create compact connections providing the perfect tool to minimize the size of LED modules. Featuring:



• A low profile of just 2.7 mm, minimizing on-board shadowing

• Wire cross-sections from 26 – 20 AWG (0.14 mm2 to 0.5 mm2), solid or tin-bonded conductors

• 3 mm pin spacing

• Current rating up to 3 A and a rated voltage of at least 320 V(UL) or 160 V(IEC)



WAGO's proven PUSH WIRE® connection also provides easy push-in termination of solid conductors. All WAGO SMD terminal blocks are available in tape-and-reel packaging for automated PCB assembly, making the 2059 ideal for the manufacture of small LED modules, designed for use in spotlights, downlights and streetlights.



About WAGO:



Innovation is at the heart of everything we do at WAGO. For over 35 years, we have pioneered innovative connection systems in electrical engineering and electronics interface with our CAGE CLAMP® spring pressure connection technology. Today our fieldbus independent WAGO-I/O-SYSTEM brings advanced functionality, flexibility and freedom to the most complex automation applications. Our customers know they can always count on the unconditional performance and reliability of our products to ensure the safe, efficient operation of their systems every time.



For additional information, visit www.wago.us.Contact WAGO at 1-800-DIN-RAIL or info.us@wago.com.



More from Construction Equipment and Supplies