Ultra Compact Lock Box features wall mounting bracket.
Press Release Summary: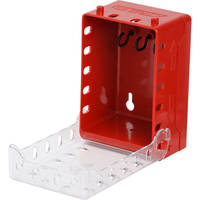 Ultra Compact Lock Box can hold up to six padlocks inside. Unit features 12 lock slots for multiple employees to lockout equipment. Product comes with three hang hooks for assembling keys and clear cover to see the contents inside. Lock Box is suitable for group lockout situations with multiple isolation points.
---
Original Press Release:
Brady Debuts the New Ultra Compact Group Lock Box
Innovative lock box provides a portable solution for carrying and securing padlocks
Brady (NYSE:BRC), a global leader in industrial and safety printing systems and solutions, announced today the launch of the new Ultra Compact Lock Box. This new lock box is ideal for group lockout situations with multiple isolation points and employees performing maintenance activities on industrial equipment.
"Designed for easy portability within your facility, this new compact lock box is an ideal group lockout solution," said Tom Smith, regional product manager for Brady. "The lightweight lock box can easily fit in the palm of your hand or in a bag, and has a clear cover so you can see the contents when needed."
The Ultra Compact Lock Box is perfectly sized for the most common lockout scenarios, can hold up to six padlocks inside and has 12 lock slots for multiple employees to lockout equipment. For easy storage when not in use, it includes a wall mounting bracket. In addition, it has three hang hooks inside for organizing keys.
For More Information
For Brady's complete product offering, visit BradyID.com.
About Brady Corporation:
Brady Corporation is an international manufacturer and marketer of complete solutions that identify and protect people, products and places. Brady's products help customers increase safety, security, productivity and performance and include high-performance labels, signs, safety devices, printing systems and software. Founded in 1914, the Company has a diverse customer base in electronics, telecommunications, manufacturing, electrical, construction, medical, aerospace and a variety of other industries. Brady is headquartered in Milwaukee, Wisconsin and as of July 31, 2016, employed approximately 6,400 people in its worldwide businesses. Brady's fiscal 2016 sales were approximately $1.12 billion. Brady stock trades on the New York Stock Exchange under the symbol BRC. More information is available on the Internet at bradycorp.com.
Media Contact:
Jackie Hahn,
(414) 438-7024
Product Contact:
Tom Smith
(414) 438-7031
Brady Corporation
PO Box 249, Milwaukee
WI 53201 United States