Ultra-Aire's New 120-pint Dehumidifiers are Energy Star Certified
Press Release Summary: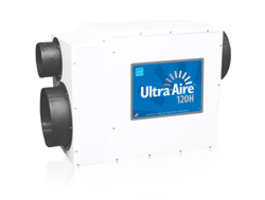 Ultra-Aire's 120-pint Dehumidifiers are available in 120V and 120H variants for vertical and horizontal whole house ventilating dehumidifiers respectively. Units provide MERV air filtration to houses up to 3,000 sq-ft. The dehumidifiers come with small foot-print and easy-to-access filter doors.
---
Original Press Release:
Ultra-Aire Launches Two New 120-Pint Whole House Ventilating Dehumidifiers
MADISON, WIS. (PRWEB) APRIL 20, 2018
Ultra-Aire, the innovator and industry leader of whole house ventilating dehumidifiers, introduces two new 120-pint dehumidifiers to their product lineup. The 120V and the 120H deliver fresh air ventilation, dedicated dehumidification, and MERV 13 air filtration to houses up to 3,000 square feet.
The Ultra-Aire 120V is the new and improved version of the original workhorse, the Ultra-Aire 100V, which represented the brand for over 20 years and is now being phased out. The Ultra-Aire 120V features a small-footprint, patented dual supplies, and remains the only vertical whole house ventilating dehumidifier in the industry. The Ultra-Aire 120H rounds out the already comprehensive line of horizontal whole house ventilating dehumidifiers the company offers.
"We are excited to improve and expand our product lineup," said Jenee Mobley, Product Manager for Ultra-Aire. "Increased capacity, energy efficiency, and installation ease were at the forefront of the units' design. Both dehumidifiers are Energy Star Certified and feature easy-to-access filter doors with innovative supply air options for installation flexibility. The 120-pint capacity is an ideal size for a large portion of the existing and new construction housing market as well."
According to the most recent U.S Census Reports on residential new construction in 2016, nearly half of the 738,000 new homes built featured a floor area of 1,800 – 2,999 square feet. Also noted, four of the five top states for new construction are located in humid climate zones: Texas, Florida, North Carolina, and Georgia.
For more information on the Ultra-Aire 120V and 120H, please visit http://www.Ultra-Aire.com
Related